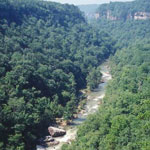 Wolf Creek Overlook has one of the most beautiful views of the canyon. You can see Canyon View Overlook to your left. To the right you see the deep canyon with the river running through it. You can also see the fork where Little River and Wolf Creek join together.
You will want to take photos of this view, so don't forget to bring your camera. This is the perfect place to sit at one of the picnic tables and enjoy the scenery.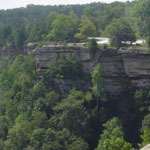 The sandstone cliffs tower over 400 feet above the water. During the winter you may see kayakers running the rapids in the river below. Experienced rock climbers rappel over the sheer cliffs all year long.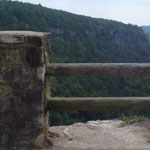 This stone fence and all the others like it throughout the park were built by the Civilian Conservation Corps (CCC) in the 1930's during the Depression. The CCC consisted of men between the ages of 17-28. The men had to be physically fit, unemployed, unmarried, have family dependents, and be willing to send an allotment home to their parents. They were paid $30 a month. Twenty-five dollars was sent to their families, leaving them with only $5 a month.