Hawks Glide Overlook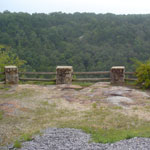 Hawks Glide has a great view of the fall colors. The foliage is very thick at this overlook.
You may be fortunate enough to witness the majestic flight of the soaring raptors from this overlook.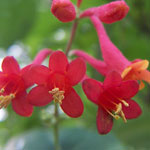 Many interesting plant species are found here including the Coral or Trumpet Honeysuckle shown at the left.
Did You Know?

Little River is unique because it is the one of the few rivers in the United States that forms and flows for almost its entire length on top of a mountain.