Crow Point Overlook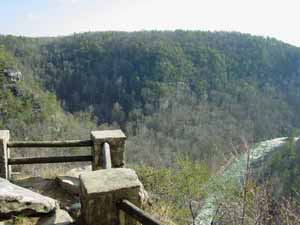 Crow Point was named for James Oscar Crow, Sr. He generously donated the land to the state park (the land was once owned by DeSoto State Park) to permit the public an opportunity to enjoy this picturesque spot.
Look down the 300 foot cliffs to see where Bear Creek and Little River join together.
Enjoy a picnic in the shade on the rocks as you enjoy the view.
The trail to the overlook is about 100 yards long. It has a curved semi-steep slope. Going down the trail is easy; coming up will give you a little workout.
Did You Know?

Rockclimbing is one of the best kept secrets at Little River Canyon. Rockclimbers have been climbing here for years. However, most routes are expert level only with less than 1% under 5.11.