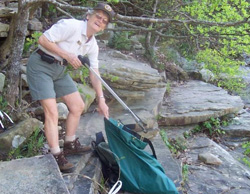 You can learn new skills, teach others and stay active and involved. Little River Canyon National Preserve Volunteers help preserve and maintain the diverse natural, cultural and recreational resources of the park for visitors as well as for future generations. You can make a difference by donating just a few hours a month.
John Ingraham (shown in photo above) has been a National Park Volunteer since 2010. He works at the Little River Canyon Center front desk and at Little River Falls. John has met and talked with thousands of visitors. John's knowledge of the park and visitor needs have helped park management many times.
Shirley Cox (shown in photo) has been a National Park Volunteer since 2009. She has helped with the recycling program, greeted visitors, and picked up tons of litter through the years. Her favorite past-time is hiking the trails of the canyon.
Volunteers play a vital role in almost all aspects of park operations: ·
Helping Maintenance keep the park clean and free of litter.

Interpretation in the park. Helping Visitors.

Resource Management - Removing non-native plants.

Working to maintain hiking and horseback riding trails.

Water Quality Testing.

Information Receptionist at the front desk.
Volunteering with the National Park Service can be a rewarding experience. If the park has a need and you have the skill, consider volunteering. Volunteer opportunities at Little River Canyon National Preserve are as diverse as the natural and cultural resources of the park. Each volunteer's contribution makes a big difference!