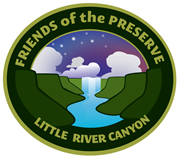 FRIENDS OF THE PRESERVE (FROP)
JOIN NOW! Become an ambassador for one of Alabama's most fascinating natural treasures. Help us to preserve this beautiful part of our national heritage. For more information, please contact us at (256) 845-9605 or visit our website at www.friendsofthepreserve.org
FROP asists the National Park Service in its mission to preserve and protect Little River Canyon National Preserve by raising funds and public awareness, and by providing volunteers for projects. They work hard to support the highest level of preservation, protection, management and interpretation of the natural, cultural and historic resources of over 13,000 national park acres. Your donation to Friends of the Preserve at Little River Canyon can help us accomplish the following:
* Enhance educational and interpretive programs and activities
* Preserve the park's natural and cultural resources
* Improve services, trails and facilities for visitors
* Increase public awareness and support for the park
* Improve backcountry campsites

Donate to Little River Canyon National Preserve
You can make a gift to benefit our park. If you make the gift directly to the park, the entire gift will be used for the purpose you identify. No administrative cost is deducted from your gift made directly to the National Park Service. more...