Places To Go
Visit:
Custer National Cemetery
Visitors Center-Book Store/Museum
Deep Ravine
Last Stand/Indian Memorial
Drive the 4.5 mile tour road to Reno/Benteen Battlefield

Waysides
Along the 4.5 mile tour road you will encounter a number of Interpretive waysides explaining the significant events at these area's.
Visitor Center Book Store

The book store is operated by the Western National Parks Association.
For more information click here...

Little Bighorn Battlefield N.M. museum



Did You Know?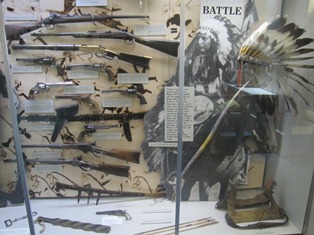 From archeological evidence the warriors who fought in the battle used about 45 different types of firearms, ranging from muzzle loaders, cap and ball to the advanced Henry and Winchester repeaters. Its believed about 10% of the warriors had firearms and the majority fought with their traditional weapons.