LITTLE BIGHORN BATTLEFIELD ROAD PAVING PROJECT UPDATE

On August 25th to the 29th please be aware on these days there may be delays due to chip sealing and pavement stripping on the road.
Cutting back Ranger Talks after Labor Day

There will be no 9:00 a.m. and 11:00 a.m. Ranger talks after Labor Day. However there will be a 10:00 a.m. Ranger Talk and also at 1:00 p.m. and 3:00 p.m.. Usaully cancellation on Ranger talks occur this time of the year due short staff.
Guided Tours
Information for guided tours are not available at this time.
Did You Know?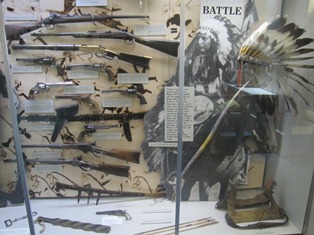 From archeological evidence the warriors who fought in the battle used about 45 different types of firearms, ranging from muzzle loaders, cap and ball to the advanced Henry and Winchester repeaters. Its believed about 10% of the warriors had firearms and the majority fought with their traditional weapons.