LITTLE BIGHORN BATTLEFIELD ROAD PAVING PROJECT UPDATE

On August 25th to the 29th please be aware on these days there may be delays due to chip sealing and pavement stripping on the road.
Cutting back Ranger Talks after Labor Day

There will be no 9:00 a.m. and 11:00 a.m. Ranger talks after Labor Day. However there will be a 10:00 a.m. Ranger Talk and also at 1:00 p.m. and 3:00 p.m.. Usaully cancellation on Ranger talks occur this time of the year due short staff.
Apsaalooke Tours
Join us on a one-hour guided tour beginning at the Battlefield
Visitor's Center, our mini-coach will take you five miles south
to the RenoBenteen Battlefield where the Battle of the Little Bighorn actually began.
Our Native guides will treat you to a captivating interpretation of the
events leading up to this fateful day, the tour will conclude at Last Stand
Hill.
Tours are provided on a daily schedule, five times per
day through the tour season. Prearranged, private
tours or step-on guides available up-on request.
Charges vary. In addition, we offer customized tours of
the Crow Reservation.
Contact:
Crow Nation Office of Tourism
Apsaalooke Tours
P.O. Box 159
Crow Agency, MT 59022
406-638-3897
ONE HOUR GUIDED TOUR
Tickets for bus tours in the park are available at the Visitors Center.
No reservations required. .

Prices: Adults $10.00, Seniors (65&up) $8.00, Children (4-12) $5.00, under 3 are free.
Tour times: 10:00 a.m. - 11:00 a.m. - 12:00 noon - 2:00 P.M. - 3:00 P.M.

Did You Know?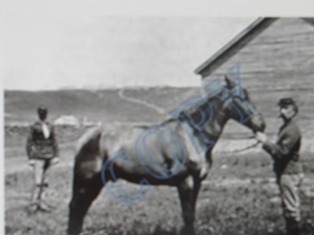 Comanche, known as the "lone survivor" at the Battle of the Little Bighorn, was not the only horse that "survived. Several horses were still alive, but badly wounded. General Terry ordered to "put away" the badly wounded horses. But Comanche was spared.