Cutting back Ranger Talks after Labor Day

There will be no 9:00 a.m. and 11:00 a.m. Ranger talks after Labor Day. However there will be a 10:00 a.m. Ranger Talk and also at 1:00 p.m. and 3:00 p.m.. Usaully cancellation on Ranger talks occur this time of the year due short staff.
September 2, Little Bighorn Battlefield Road Paving update

Parking Area Marking is scheduled for this Friday Sept. 5. The road markings are scheduled to be painted Sept. 15-17.
Laws & Policies
Firearms – Important Please Read
As of February 22, 2010, a new federal law allows people who can legally possess firearms under applicable federal, state, and local laws, to legally possess firearms in this park.
The Credit Card Accountability Responsibility and Disclosure Act of 2009, was enacted May 22, 2009 and will become effective February 22, 2010. Section 512 of this law: Protecting Americans from Violent Crimes, supersedes the uniform treatment of firearm Possession in the national park system outside Alaska under the regulations found at 36 C.F.R. 2.4.
It is the responsibility of visitors to understand and comply with all applicable state, local, and federal firearms laws before entering this park As a starting point, please visit our state's website.
http://data.opi.state.mt.us/bills/mca_toc/45_8_3.htm
Federal law also prohibits firearms in certain facilities in this park; those places are marked with signs at all public entrances. Those places include all Government offices, visitor centers, ranger stations, fee collections buildings, and maintenance facilities. These prohibited locations will be marked with signs at all public enterances.
MONTANA:
Open Carry Allowed
Handgun = Yes
Rifle = Yes
In Vehicle =Yes
Age Requirement = 14
Concealed Carry Allowed – Permit Required
Person = Yes
Vehicle = Yes
State Reciprocity = 40 States
Age Requirement = 18
Other Montana State Firearms Information
http://www.doj.mt.gov/enforcement/criminaljustice/concealedweapons.asp
Did You Know?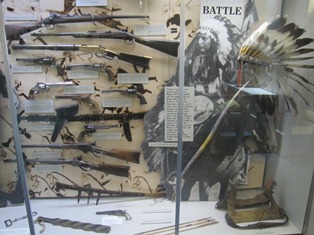 From archeological evidence the warriors who fought in the battle used about 45 different types of firearms, ranging from muzzle loaders, cap and ball to the advanced Henry and Winchester repeaters. Its believed about 10% of the warriors had firearms and the majority fought with their traditional weapons.