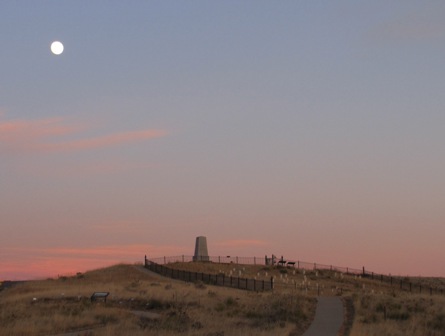 Night Skies
Starry night skies and natural darkness are important components of the special places the National Park Service protects. National parks hold some of the remaining harbors of darkness and provide an excellent opportunity for the public to experience this endangered resource. The NPS is dedicated to protect and sharing this resource for the enjoyment of current and future generations.
Read about a recent event at the Battlefield, click below.
http://nricms.nps.doi.net/resources/2016.htm?id=5B84F2AC-155D-451F-6739815671C4067D
For more information about the NPS night skies program, Click below.
http://www.nature.nps.gov/night/index.cfm

Birds
The Rocky Mountain Bird Observatory, in conjunction with the National Park Service, conducted avian area searches covering the full extent of little Bighorn Battlefield National Monument from May 30 to June 3, 2012. The goal of the project was to compare data from this survey to previous surveys. In total, 577 individuals of 47 species were detected during the avian area searches. Breeding behavior was confirmed for four species, strong evidence of breeding was observed for eight species, and moderate evidence of breeding was witnessed for an additional eight species.
For a full report click below.

https://irma.nps.gov/App/Reference/Profile/2194267