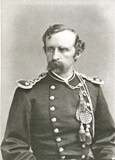 Lt. Colonel George Armstrong Custer
George Armstrong Custer. After his early education he became a school teacher but soon was accepted as a cadet at the United States Military Academy, West Point, New York. More...

Sitting Bull
Not only was he a brave and daring warrior, but he was an eloquent spokesman and statesman, as well as powerful spiritual leader. More..
Other participants of the Battle: June 25th 1876
U.S. 7th Cavalry

Chieftains and Warriors