Road through the park is closed

Park highway (HWY 89) is currently being cleared of snow, debris, and rocks. Anticipated opening for Memorial Weekend. More »
Park highway under construction near Sulphur Works

Road crews are working to repair the road near Sulphur Works hydrothermal area. Road will be closed at the Kohm Yah-mah-nee Visitor Center during the week, and open to Sulphur Works on the weekends.
Stargazing & Astronomy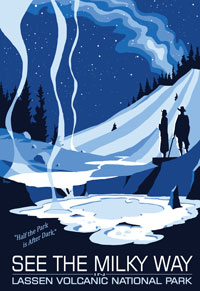 Half the park is after dark! From animals to plants and water to volcanoes, Lassen Volcanic National Park protects many different natural phenomena. One of the most spectacular is frequently overlooked -- our incredible, dark, night sky. Lassen Volcanic is one of the best places to learn about and enjoy the splendor of the night sky. Far from the light pollution of civilization, Lassen is one of the last sanctuaries of natural darkness. Whether you have yet to experience the grandeur of the Milky Way, or you are a dedicated amateur astronomer, Lassen's dark skies offer unparalleled view of the celestial wonders. Experience Lassen after dark:
Attend a Starry Night ranger-led program at various locations throughout the park

Join us for Lassen's first Dark Sky Festival, August 9 through 11
Pick-up a night sky viewing book or sky chart from the Lassen Association bookstore, and explore the night skies on your own
National Get Outdoors Day Astronomy Events
Saturday, June 8
Constellation Tour and Stargazing
Kohm Yah-mah-nee Visitor Center | Dusk ~ 10 p.m.
Join park rangers for a sky tour and learn how to spot the North Star, and how to easily find star groups like the Big Dipper, Swan, Scorpion, and many others. Then, using Lassen Park's powerful computer-guided telescope you'll get closeup views of the spectacular rings of Saturn, star clusters, giant interstellar gas clouds, and maybe even a distant galaxy. For all ages.
Be sure to bring warm clothing for comfortable viewing.
Preserve your night vision by using a red flashlight, available for purchase at the Kohm Yah-mah-nee Visitor Center.



Lassen Dark Sky Festival
August 9 through 11
Join park rangers, astronomers, and planetary geologists in celebrating all that is out of this world during Lassen's Dark Sky Festival. Special programs, presentations, hikes, and Junior Ranger Night Explorer activities will be offered during the festival.
Highlights Include:
Starry Nights Ranger-led Program
June 28 through August 11
Join a park ranger for a program on stars, planets, and constellations. Hear stories and learn to locate objects in the sky. Dress warmly, night-time temperatures vary between 30 and 50 degrees F in the high elevations of the park.
Wednesdays - 9 p.m. Devastated Area
Did You Know?

All four types of volcanoes found in the entire world are represented in Lassen Volcanic National Park.  Volcanoes found in the park include shield (Prospect Peak), plug dome (Lassen Peak), Cinder Cone (Cinder Cone), and Composite (Brokeoff Volcano) volcanoes. More...