Operating Hours & Seasons
Lassen Volcanic National Park is open year-round, 24 hours per day. Road access is limited in the winter months. Please check road conditions for road status if visiting October through June. Many facilities are open for the summer season only. Read below for more information about facility operating days and hours.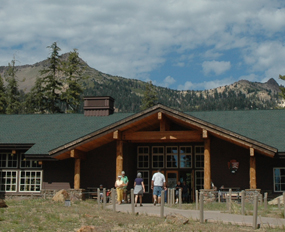 NPS Photo
Kohm Yah-mah-nee Visitor Center
The Kohm Yah-mah-nee Visitor is located near the southwest entrance. This accessible center features exhibits, an amphitheater, auditorium, cafe and gift shop, educational bookstore, dining area, and summer patio. Rangers offer summer programs.

Phone: (530) 595-4480
Operating Hours: 9 a.m. to 5 p.m.
Seasons:
April 1 to October 31 - Open daily
November 1, 2014 to March 31, 2015
Closed Thanksgiving, Christmas
Closed Mondays and Tuesdays, excepting:
December 29 and 30, 2014
January 19, 2015 (MLK Day, fee free)
February 16, 2015 (President's Day)

Please note: The visitor center may close at anytime due to inclement weather or heavy snowfall prohibiting access to the southwest area. Please check the current conditions page for update-to-date information on road and building conditions.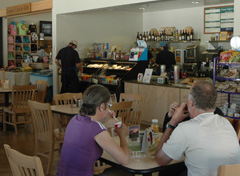 NPS Photo
Lassen Cafe & Gift (Kohm Yah-mah-nee Visitor Center)
Open Season: Year-round
Hours:
May 23 to October 13 - Daily 9 a.m. to 5 p.m.
New! 2014 and 2015 winter hours:
October 18, 19 and October 25, 26
November 28 through 30
December 26 through 31
January 1 through 4 and January 17 through 19
February 14 through 16
9 a.m. - 4 p.m.
Arranged Meals
If you are part of an organized group with 10 or more people and would like meals provided by the cafe, please call the cafe at (530) 595-3555 at least a week in advance to arrange meals for your group. Special requests can be taken. www.lassenrecreation.com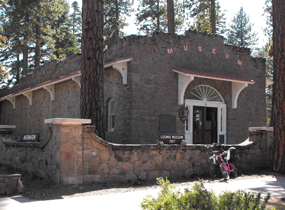 NPS Photo
Loomis Museum
The historic Loomis Museum is located at the northwest entrance of the park. This accessible facility offers exhibits, an auditorium, and educational bookstore. Rangers offer summer ranger-led programs, and provide information and park publications. Exhibits include photos from B.F. Loomis who documented Lassen's Peak most recent eruption cycle and promoted the park's establishment. Additional exhibits feature the original equipment Loomis used to photograph the eruptions, and traditional Atsugewi basketry.

Operating Season: May 23 through October 31, 2014
Hours:
May 23 - June 8, Friday - Sunday, 9 - 5
June 14 - October, Daily, 9 a.m. to 5 p.m.
Phone: (530) 595-6140

Manzanita Lake Camper Store
The camper store is located near the northwest entrance of the park adjacent to the Manzanita Lake Campground. The camper store offers a large variety of camper supplies, gifts and food. Soft serve ice cream, hot meals and s'more packs are summer camper favorites. Cabin and kayak rentals are also available through the camper store. The only gas station at the park is located behind the camper store and is available 24 hours a day with a credit card during operating season.

Operating Season: Summer only
Hours:
May 22 to June 13 - 9 a.m. - 5 p.m.
June 14 to August 31 - 8 a.m. - 8 p.m.
September 1 - October 14 - 9 a.m. - 5 p.m.
Phone: (530) 335-7557
Website: www.lassenrecreation.com