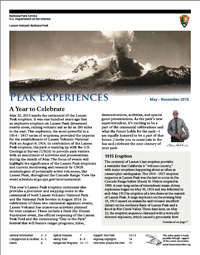 Summer/Fall 2015 Edition
The park newspaper, Peak Experiences, offers information on campgrounds, hiking trails, and backpacking. This edition features information on the 1915 Lassen Peak Eruption.

Download the summer/fall 2015 edition of Peak Experiences (pdf, 1.8 MB).
Winter 2014/2015 Edition
The winter edition of the park newspaper offers information winter activities, ranger-led snowshoe walks, ski and snowshoe routes, and winter travel. You can also find interesting articles and information on local businesses.
Download the winter/spring 2014-2015 edition of Peak Experiences (2.8 MB, pdf).