Park Newspaper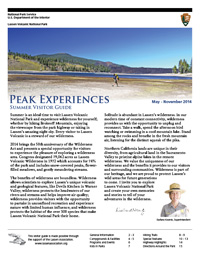 Summer/Fall 2014 Edition
The park newspaper, Peak Experiences, offers information on campgrounds, hiking trails, and backpacking. This edition features information on Lassen Volcanic National Park Wilderness, drought in the park, and the Northwest Gateway project.

Download the summer/fall 2014 edition of Peak Experiences (pdf, 2.13 MB).
Winter 2014/2015 Edition
The winter edition of the park newspaper offers information winter activities, ranger-led snowshoe walks, ski and snowshoe routes, and winter travel. You can also find interesting articles and information on local businesses.
Download the winter/spring 2014-2015 edition of Peak Experiences (2.8 MB, pdf).