NPS Photo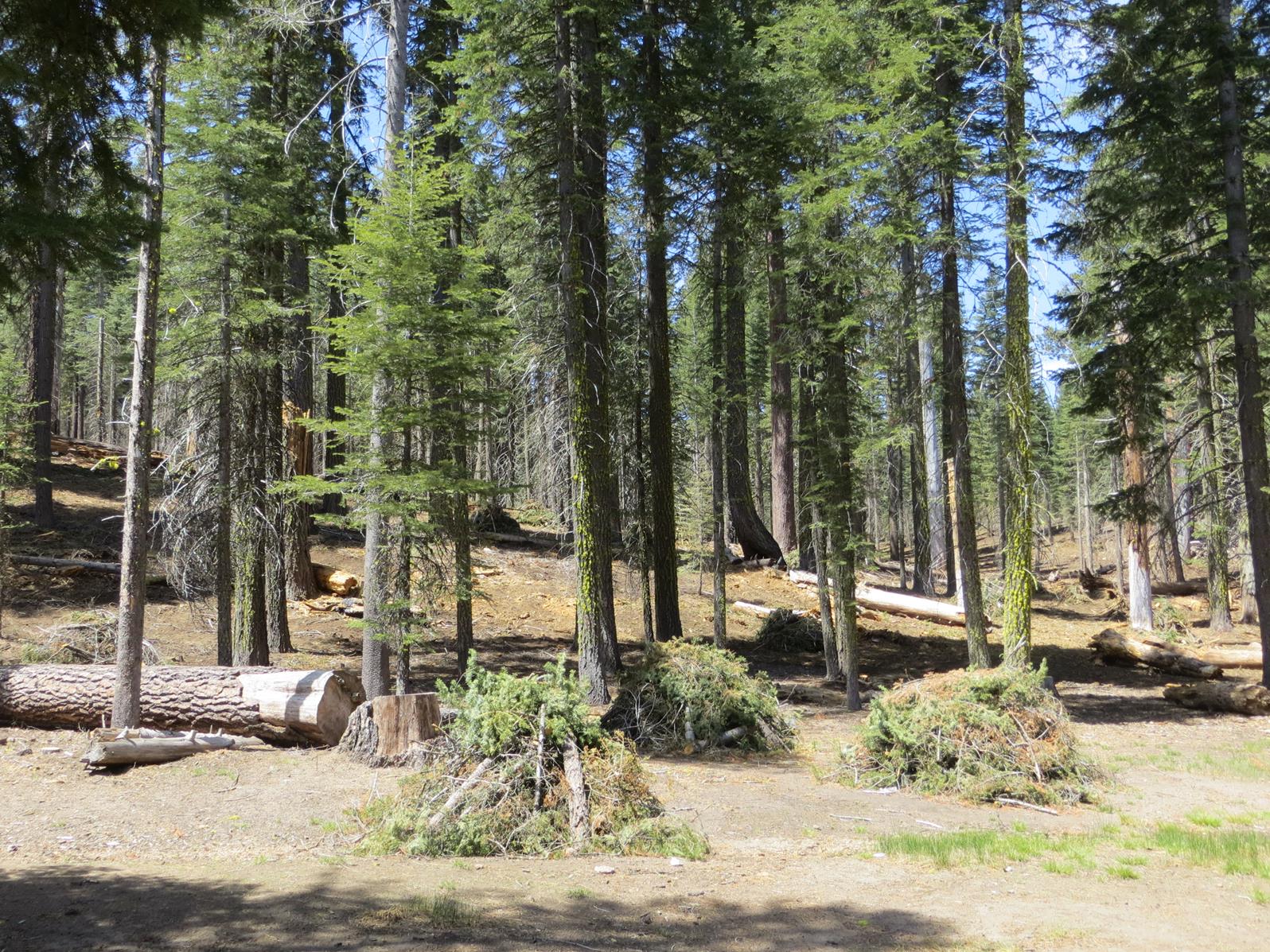 Northwest Gateway Project Pile Burning at Manzanita Lake 11/12/2014
Fire Management will take advantage of the cool, wet weather dominating the forecast and ignite project piles in the Manzanita Lake area beginning November 12. No closures are associated with this burn and smoke impacts to the surrounding area will be minimal.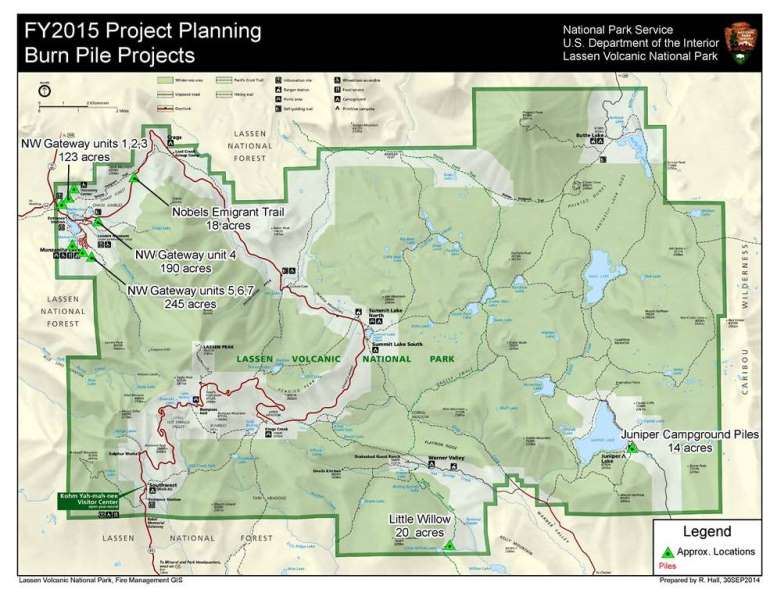 Fall Pile Burning to Begin - 10/9/2014
The park will take advantage in the change of seasons and plan to hand ignite burn piles as cool and wet weather moves into the forecast. The burning could start anytime within the next couple of weeks, weather dependent. Piles constructed due to the park fuels reduction program are slated to be ignited, including piles near Manzanita Lake from the Northwest Gateway restoration, along the PCT in the Little Willow area, and in the Juniper Lake campground area.
King Fire 9/2/2014
The human caused King Fire, originating approximately 60 feet below Lassen National Park Highway at the Kings Creek trailhead, was reported Tuesday September 2, 2014 at 8:15am by park staff. The small fire, smoldering and creeping in forest duff, was contained at 11:30 am. The King Fire was officially called out on Friday September 5, 2014.
Dangerous Fire Conditions Exist
Due to drought conditions and increased temperatures, Lassen Volcanic National Park is experiencing higher than normal fire danger this summer. Safety is our first priority and we ask for your cooperation in remaining diligent by extinguishing all campfires in the campground fire rings, properly disposing of cigarettes and adhering to the campfire ban in the backcountry. Conditions change; for your safety stay informed of current and predicted weather conditions while visiting Lassen Volcanic National Park.
P1 Fire 7/16/2014
On the evening of July 16th at approximately 6:30 pm the Mt. Harkness Fire Lookout spotted smoke on the upper 1/3 of the southeast aspect of Mt. Harkness. This single tree lightning fire was contained (a line around the fire perimeter) at 9:00 pm. A combination of Park Service and Forest Service resources are hiking into the location this morning to check containment and mop up.
Northwest Gateway Forest Restoration Project
Due to mild winter conditions, Lassen is implementing the intial phase of the Northwest Gatweway Forest Restoration (NWG) Project. Mechancial thinning will begin in approximately 500 acres on two of the six proposed areas in early February. Read more...


Fall Pile Burn Projects
Pile burning will continue December 2 through 6, 2013 as weather permits.
Fire Management will hand ignite burn piles as cool and wet weather dominate the forecast. The first priority will be the Reading Fire burn piles located along the park highway. The park will take advantage of the changing weather conditions to complete the final phase of fuels reduction projects throughout the park when enough precipitation has fallen to prevent flames from spreading beyond pile areas.
Summit Fire | 9/11
On the morning of September 11, members of the trail crew reported to the fire staff seeing a small white smoke in the Summit Lake area. Battalion 7, a helicopter from CalFire, a Forest Service engine and patrol 701 with supporting LE personnel were dispatched to the area. A small 5' x 5' fire was discovered. The Summit fire was contained and controlled by 1500 on September 11 and has now been called out. The cause of this fire is likely human but still under investigation.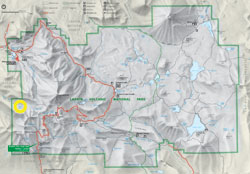 Blue Fire | 9/6
The park received a report of smoke southwest of Lassen peak in the Blue lake (T30N R4E S8) area around 11:20 on Friday September 6. Due to the remote location and difficulty to access, 4 smoke jumpers and a helicopter for water bucket support were ordered for the fire along with Engine 33, Patrol 701 and a fire cause and origin investigator. When discovered, the fire was .25 acres in size and burning in timber with heavy duff along the shore of Blue Lake.The Blue fire was called contained at 9:17 and controlled at 14:00 on September 8. The Blue fire was called out on September 10.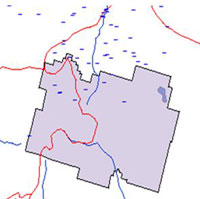 P-1 and P-2 Fires | 8/19
P-1 and P-2 have been declared out. A significant lightning storm came through the park on Monday, August 19th and produced two fires. P-1 Fire (Panther), 1/10 th of an acre started by a single tree lightning strike. This fire was located near the headwaters of Panther Creek approx. 1-1/2 miles west of Drake Lake (T30N R5E Sec 29). P1 Fire was called controlled and out at 1400 on Wednesday, August 21st. P-2 Fire (Twin), was difficult to locate due to the rocky nature in which a single tree was struck by lightning and had little smoke. Initially reported by Recon 26, a ground crew hiked in to the area to find the reported smoke. It was located and is now contained. P-2 was a ¼ mile north of P-1. As of August 21, there were no new starts, but several lightning strikes were in the Park. The lightning came with significant moisture especially on the north side of the park.
Soap Fire | 8/17
The Soap Fire was approximately 1 mile southeast of Soap Lake. Air attack confirmed the smoke as a 10 by 10 Single tree lightning strike fire ( Holdover). Helicopter 202 got on scene around 12:30 and contained and mopped up the fire by 13:00. Park fire staff hiked into the fire to complete mop up duties and was able to call the fire controlled and out.
P-1 Fire | 7/23
The P-1 Fire is on the SW flank of Mt. Harkness (N 40 25.726 by W 121 18.324). The lightning caused fire was first reported by Mt Harkness Lookout at approximately 16:00 and contained by park and forest resources at 19:30. The Fire grew to a total of 4/10th of an acre. Over the next few days this fire will be staffed and mop up actions will take place until the Incident Commander declares the fire out. The lightning map shows the location of the lightning in the area.
Jones Pullout Fire | 5/7 - 5/13
The Jones Pullout Fire was reported by a park employee on 5/07/2013 at 7 a.m. The fire was contained and put in patrol stations that morning. The fire began as a single a single Red Fir Snag which had been struck by lightning, burned, and fell down slope. It also scorched a larger Red Fir and torched out some little trees in the immediate area. Fire crews mopped up the hot areas; the surrounding area was very wet dirt and 1 to 3 feet of snow up and down slope of the fire. Fire spread potential very low. The fire was officially called out on 5/13/13.

NPS Photo
Reading Fire
A lightning strike ignited the Reading Fire on July 23, 2012 approximately one mile northeast of Paradise Meadow. The Reading Fire reached 100% containment on August 22 at 28,079 acres. Restoration activities will continue in 2013.