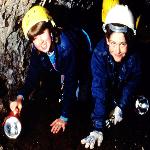 Go Caving
With over 20 developed caves, groups can easily spend days underground exploring this unique environment. The safest way to take a large group caving is to divide into groups of 6-8 students with at least one adult assigned to each group. Students can walk around the 2-mile loop road from the Visitor Center with each small group exploring a different cave.
Before entering any caves at Lava Beds, groups need to come to the visitor center to be screened fro White-nose Syndrome. After being screened we highly suggest that groups do at least one of the following activities:
Complete activities on caving ethics and safety in the Geology or Cave Life Trunks.
Request a geology presentation inside Mushpot cave or a Valentine cave tour.
Request a short "Cave Safely, Cave Softly" orientation talk before going caving.