Important Planning Note:
Due to our remote and small operation, Lava Beds is not able to accept debit or credit cards for entrance and campground fees at this time. Please bring cash or checks for your visit. Credit and debit cards may be used to purchase passes and other goods in the Visitors Center.
Entrance Fees:
Seven Day Entrance Fee: $15.00 per vehicle
Motorcycle, Bicycle or Walk-in: $10.00
Academic groups may apply for an Academic Fee Waiver and have their entrance fees waived. Visit the Plan Your Field Trip section to learn about what education opportunities await your students.
Campground Fees:
Campsite Fee: $10.00 per night, per site
Group Campsite: $3.00 per person, up to $60.00
Fee Free Days 2015:
January 19 - Martin Luther King Jr. Day
February 14-16 - Presidents Day Weekend
April 18-19 - Fist Weekend of National Park Week
August 25 - National Park Service Birthday
September 26 - National Public Lands Day
November 11 - Veteran's Day
Camping and other use fees apply. Enjoy your parks!
Annual and Lifetime Passes: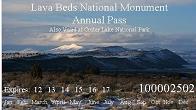 Lava Beds Annual Pass: $30.00
Good for one year from date of purchase.
A Lava Beds annual pass is also valid at Crater Lake National Park, and a Crater Lake annual pass is honored at Lava Beds.
The National Parks and Federal Recreational Lands Annual Pass: $80.00
Good for one year from date of purchase
Replaces both the National Parks Annual Pass and the Golden Eagle Pass
The National Parks and Federal Recreational Lands Senior Pass: $10.00
Must be at least 62 years of age.
Pass is good for the rest of your life.
At some locations you get half off camping fees.
Golden Age passes are still valid for life
Free Annual Pass for U.S. Military
Available to U.S. military members and dependents in the Army, Navy, Air Force, Marines and Coast Guard and also, Reserve and National Guard members.
Must be obtained in person at a Federal recreation site by showing a Common Access Card (CAC) or Military ID (Form 1173).
Access Pass
Free
For U.S. citizens or permanent residents with permanent disabilities.
May be obtained in person.
Applicants must provide documentation of permanent disability and residency or citizenship.
May provide a 50 percent discount on some amenity fees charged for facilities and services such as camping, swimming, boat launching, and specialized interpretive services.
Generally does NOT cover or reduce special recreation permit fees or fees charged by concessioners.
Volunteer Pass
Free
For volunteers with 250 service hours with federal agencies that participate in the Interagency Pass Program.
Annual 4th Grade Pass
Available to U.S. 4th graders (including home-schooled and free-choice learners 10 years of age) with a valid Every Kid in a Park paper pass.
The pass is valid for the duration of the 4th grade school year through the following summer (September-August).
Paper passes can be obtained by visiting the

Every Kid in a Park website

and can be exchanged for the Annual 4th Grade Pass at Federal recreation sites that charge Entrance or Standard Amenity fees.
Digital version of the paper pass (such as on smart phones or tablets) will not be accepted to exchange for an Annual 4th Grade Pass.
The pass is non-transferable.
Educators can also be involved! Learn more at the

Every Kid in a Park website.