Leave the park the way you would like to find it! Learn and follow the
principles of Leave No Trace
to help keep Kenai Fjords pristine, both for future visitors and for the wildlife that makes their home in this magical place.
Plan Ahead and Prepare

Choose realistic goals, bring proper gear, learn backcountry skills, know the terrain, and make contingency plans. It's not only important for your safety; good planning makes it easier to leave no trace in the backcountry.
Be prepared for the unexpected:
Ocean storms can sweep through the Kenai Fjords any time of year. Good rain gear and extra food supplies are a must since weather may delay a charter pick-up for days. A properly prepared party can usually wait out bad weather and may be a few days overdue with no cause for alarm. Travel with a marine radio to stay informed of upcoming conditions. Don't make your schedule too tight. Allow extra time for delays and always have a backup plan. When in doubt, stay on the beach - better to get home late than to risk paddling through potentially deadly seas.
Let someone know your plans:
Always let a responsible person know where you are going and when you expect to return. Let them know how long overdue you can be before they should start to worry.
Travel and Camp on Durable Surfaces
Despite the rugged appearance, the rocky shores and cliffs of Kenai Fjords are vulnerable to human impact. Fragile alpine vegetation is easily damaged and can take years to recover.

Dispose of Waste Properly
Nobody wants to find your old toilet paper sticking out from under a rock. Proper waste disposal not only keeps the backcountry looking pristine, it is extremely important for health and safety of campers and wildlife.
Pack out all trash:
This includes all food trash and packaging materials – even things that are biodegradable! Many modern packaging materials don't burn, so be sure to clean up any campfire litter.
Dispose of human waste properly:
Human waste disposal is no longer permitted in the inter-tidal zone due to concerns about water quality. Pack it out or bury it in the uplands in a six-inch deep "cat hole" at least 200 feet from any water source. Toilet paper should always be packed out or carefully and completely burned.

Leave What You Find
Take only memories (and photos!). One of the unique features of the Kenai Fjords coastline is the "ghost forests" – dead standing trees whose roots were inundated with salt water during the '64 earthquake. Do not cut them up for firewood. Unlike parks in the lower 48, however, recreational rock collecting (by hand without tools) is permitted in Kenai Fjords and most of the national parks of Alaska.
Minimize Campfire Impacts
Use a stove instead of making campfires. Wood is scarce on the coast and campfires leave scars on the beach. If you must have a fire:
Build it below high tide line or use a fire pan.
Use only dead and down wood and choose small pieces that will burn completely.
Disassemble your fire ring before leaving camp.
Respect Wildlife
In the backcountry, you are a visitor. Be mindful that you are sharing this place with bears, moose, shorebirds and other wild residents. Take care not to let your actions impact their behavior or damage their habitat.
Store your food properly:
When bears get habituated to human food, they become a danger to people and often end up getting killed. A fed bear is a dead bear! There are several easy and effective ways to store your food.
Keep an eye out for nests:
Black Oystercatchers and other shorebirds often nest on the same beaches that campers prefer. If shorebirds seem distressed, try to locate their nest and set your camp well away from it. Be careful though - nests blend in well with their surroundings.
Observe any closures:
At critical times during the breeding season, known nesting areas may be closed to camping.
Be Considerate of Other Visitors
Few good camping and landing sites exist along the rugged Kenai Fjords coast, and every year more and more people visit this backcountry wilderness.
Keep your group size small to minimize impact.
Be prepared to share camping beaches and food storage lockers with other parties.
Fill out a voluntary backcountry registration. This information helps park managers determine visitor use patterns and identify areas that need food storage lockers or impact monitoring. It can also help us find you in an emergency.

Simple Rules for Choosing a Good Campsite
Be sure to allow enough time and energy at the end of the day to select a good campsite. Survey the area carefully before beginning to unpack or set up camp. Ask yourself these questions:
Is there fresh bear sign in the area?
Is there a good place to store food properly?
Are there nesting shorebirds here that will be disturbed?
Does this beach appear subject to high surf if the wind or weather changes?
Is this beach too close to a tidewater glacier? Would a large calving create dangerous surf?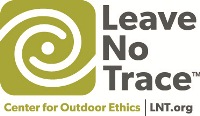 For more information on the principles of Leave No Trace, visit the
Leave No Trace Center for Outdoor Ethics
.