Cottonwood Trails Closed

Trail access remains closed to Cottonwood Spring Oasis, Lost Palms Oasis, and Mastodon Peak. More »
Pinto Basin Road Under Construction; Expect 30+ Minute Travel Delays

Visitors should expect 30+ minute waits when heading north and sound bound on the Pinto Basin Road. Due to construction activity around Cottonwood Visitor Center, additional waits of 30 minutes may be in place when leaving the visitor center parking lot. More »
Deteriorating conditions of Black Rock Canyon Road

The road leading to Black Rock campground has deep potholes, is deeply rutted, and can be difficult to negotiate, especially in large vehicles. Please drive with caution.
Rock Climbing and Bouldering
Important Closure Information
For up-to-date information regarding climbing route closures, click here.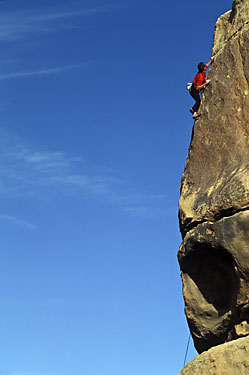 Arete by Sam Roberts
Joshua Tree welcomes climbers and bouldering enthusiasts from around the world. This high desert monzogranite climbing mecca is famous for its traditional-style crack, slab, and steep-face climbing. With more than 400 climbing formations and 8,000 climbing routes, Joshua Tree offers challenging climbs for all levels of climbing ability. It is truly a world-class climbing destination.
If you are new to rock climbing and bouldering, please be sure that you are properly trained and equipped before you engage in these activities. You may wish to purchase a climbing guide or hiking map if you are unfamiliar with the park. They are available at park visitor centers and at outdoor shops in the surrounding communities. Information about commercial guide services can be found on the Internet and at local climbing stores.
Tread Lightly Fifty years ago, the impact of rock climbers at Joshua Tree was minimal, but today the park hosts hundreds of climbers and boulderers on a busy weekend. We must all do our part to protect this fragile desert environment, or it will cease to be a viable habitat for plants and animals, a valuable research area for scientisits, and a welcoming place for climbers to enjoy.
Did You Know?

Joshua Tree National Park has over 550,000 acres of wilderness, offering visitors opportunities to explore where few others have ventured. More...