Cottonwood Trails Closed

Trail access remains closed to Cottonwood Spring Oasis, Lost Palms Oasis, and Mastodon Peak. More »
Pinto Basin Road Under Construction; Expect 30+ Minute Travel Delays

Visitors should expect 30+ minute waits when heading north and sound bound on the Pinto Basin Road. Due to construction activity around Cottonwood Visitor Center, additional waits of 30 minutes may be in place when leaving the visitor center parking lot. More »
Deteriorating conditions of Black Rock Canyon Road

The road leading to Black Rock campground has deep potholes, is deeply rutted, and can be difficult to negotiate, especially in large vehicles. Please drive with caution.
Human Waste & Trash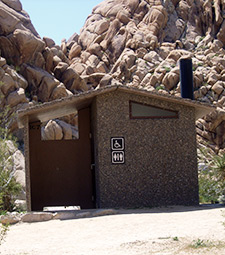 Human Waste
Please use the toilets located near most crags. If you can't, follow these guidelines:
#1 Urinate on rocks, not plants, because animals will defoliate plants and dig up soil to get to the salt deposited with your urine.
#2 Bury the brown stuff in a four-to-six-inch hole dug in a sunny place at least 200 feet from water, washes, rock shelters, climbing routes, and bouldering problems. Wildlife will dig up soiled toilet tissue, so bring a bag and pack it out.
Trash: Pack it out, even if it isn't yours.
It's easy to carry an extra bag for trash. A quick visual sweep of an area is a good way to ensure that you are not forgetting anything.
It can take up to 18 years for a cigarette to decompose in the desert. Orange peels, apple cores, pistachio shells, tape, fruit stickers, and the sock you sacrificed are all trash.
Did You Know?

Joshua Tree National Park has over 550,000 acres of wilderness, offering visitors opportunities to explore where few others have ventured. More...