Plan Your Visit
The John Fitzgerald Kennedy National Historic Site preserves the birthplace of America's 35th president. The site is located at 83 Beals Street in Brookline, Massachusetts and tours of the house are offered seasonally. Please check these pages for details on operating hours, fees, directions to the park, and types of tours available.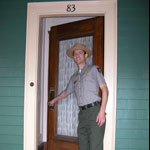 When is the site open?
The site is open seasonally. From May-October, the site is open Wednesday through Sunday, 9:30am-5pm. All tours are free. For a detailed tour schedule, please click here. December-April, the visitor center is closed and tours are offered by appointment only. Until May 22, 2013, we will continue to offer tours on limited basis by appointment; groups, researchers and other visitors are encouraged to schedule an appointment at least two weeks in advance of their trip. Call the site at 617-566-7937 or email us to schedule an appointment.
Getting Here
John Fitzgerald Kennedy National Historic Site is located at 83 Beals Street, Brookline, Massachusetts. The site is easily accessible by car or public transport. Limited on street parking is available on a first-come, first-served basis. Parking is free and limited to two hours. Please click here for detailed directions via public transport or car.
From Beals Street to the White House
Join a ranger and learn about the early years of John F. Kennedy. During a free, 30 minute tour, you'll see the room where he was born, learn how Mrs. Kennedy managed a large family, discover John F. Kennedy's favorite childhood books and explore the influences that shaped him as child. Click here for a complete tour schedule.
In Jack's Footsteps
During this 45-minute tour, offered 2:15pm daily, follow in Jack's footsteps, taking the same path as the future president, known then as Jack, did on his way to the Edward Devotion School or to Coolidge Corner to spend his allowance. Jack's trips in the neighborhood took many different routes; click here for a full list of neighborhood tours.
The Enduring Qualities: the Origins of the Kennedy Family in Boston
Discover the origins of the Fitzgerald and Kennedy families in this 90 minute tour of Boston's North End. You'll see Rose Kennedy's birthplace, learn about the experience of Irish immigrants in during the Great Famine in Ireland and how the city continues to celebrate the contributions of both the Fitzgerald and Kennedy families. Click here for tour times and meeting location.


Did You Know?

Like many middle-class families in Brookline, the Kennedy's relied upon the many contributions of live-in domestic help.  Mary O'Donaghue and Alice Michelan, two first-generation Americans, cooked, cleaned and cared for the children, enabling the family to live their version of the American dream.