Plan Your Visit
The John Fitzgerald Kennedy National Historic Site preserves the birthplace of America's 35th president. The site is located at 83 Beals Street in Brookline, Massachusetts and tours of the house are offered seasonally. Please check these pages for details on operating hours, fees, directions to the park, and types of tours available.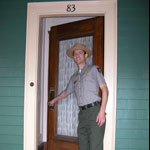 When is the site open?
The site is now open for our summer season. From May-October, the site is open Wednesday through Sunday, 9:30am-5pm. All tours are free. For a detailed tour schedule, please click here.




Getting Here
John Fitzgerald Kennedy National Historic Site is located at 83 Beals Street, Brookline, Massachusetts. The site is easily accessible by car or public transport. Limited on street parking is available on a first-come, first-served basis. Parking is free and limited to two hours. Please click here for detailed directions via public transport or car.


Did You Know?

Boston's trolleys, trains, & ferries are part of one of the oldest transit systems in the country, and are collectively known as the "T". Trolley lines run along the same routes that the Kennedy family rode into downtown Boston. You can follow their journey during your visit to Boston.