Operating Hours & Seasons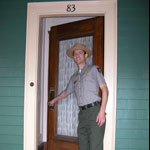 The John Fitzgerald Kennedy National Historic Site is open seasonally.

Winter Hours (November 3, 2013-Early May 2014)
Closed. During the winter, tours are offered by appointment only, Monday-Friday, and are subject to staff availability. Please contact the site at 617-566-7937 or email us at least two weeks in advance to arrange an appointment.

**We will offer two walking tours in April! Join us April 23 and April 25 at 2:15 pm for "Growing up Kennedy." House tours will be available at either 1:30pm or 3:00pm both days. Reservations recommended; please call 617-566-7937 to reserve your spot.**



Summer Hours (May-October 2014)
Open Wednesday through Sunday, from 9:30am-5:00pm. Program offerings depend on staffing; please check these pages in April for the 2014 Summer schedule.


Did You Know?
As a child, Jack was sick a lot. He escaped his sick-bed by reading adventure books. Through reading, he developed a vivid imagination that he drew on as president to create the Peace Corps, launch the space race, & mold a sweeping Civil Rights Bill. As president, how would you use YOUR imagination?