Operating Hours & Seasons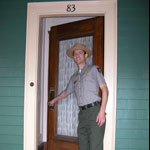 The John Fitzgerald Kennedy National Historic Site is open seasonally.

Summer Hours (May 22-October 31, 2014)
Open Wednesday through Sunday, from 9:30am-5:00pm. Click here for information about touring the home. Click here for information about touring the neighborhood.


Winter Hours (November 1, 2014-late May, 2015)
Closed. Tours of the home are available by appointment, Monday-Friday, dependant on staff ability. To insure staff availability, please make your reservation two weeks in advance by calling the site at 617-566-7937 or email us.


Did You Know?

While many American women-including Jack Kennedy's grandmother, Mary Kennedy-supported woman's suffrage, the US Constitution didn't extend the vote to women until 1920. Years later, in 1963, Jack signed a Civil Rights Bill to guarantee every American's right to participate fully in civic life.