Operating Hours & Seasons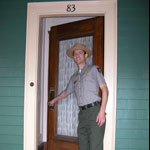 The John Fitzgerald Kennedy National Historic Site is open seasonally.

Winter Hours (November 3, 2013-May 21, 2014)
Closed. During the winter, tours are offered by appointment only, Monday-Friday, and are subject to staff availability. Please contact the site at 617-566-7937 or email us at least two weeks in advance to arrange an appointment.

**We will offer two walking tours in April! Join us April 23 and April 25 at 2:15 pm for "Growing up Kennedy." House tours will be available at either 1:30pm or 3:00pm both days. Reservations recommended; please call 617-566-7937 to reserve your spot.**



Summer Hours (May 22-October 31, 2014)
Open Wednesday through Sunday, from 9:30am-5:00pm. Program offerings depend on staffing; please click the link "2014 Opening Information" to the left of your screen for information about our 2014 Summer schedule.


Did You Know?
In 1914, the Kennedy home was the last house on tree-lined Beals Street. While houses later occupied the fields around the Kennedy's property, many of the trees that lined Beals Street during Jack Kennedy's childhood -including the tree in front of the house- have soared to a height of 75 feet.