Operating Hours & Seasons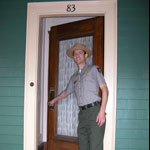 John Fitzgerald Kennedy National Historic Site will open to the public for the summer season on May 22, 2013. Hours of operation will be 9:30am-5pm, Wednesday through Sunday. All programs are free. Please click here for more information about touring the home. For information on Neighborhood tours or the North End Tour, click here. Until May 22, 2013, we will continue to offer tours on limited basis by appointment; please call the site at 617-566-7937 or email us.


Did You Know?

While many American women-including Jack Kennedy's grandmother, Mary Kennedy-supported woman's suffrage, the US Constitution didn't extend the vote to women until 1920.  Years later, in 1963, Jack signed a Civil Rights Bill to guarantee every American's right to participate fully in civic life.