We're celebrating National Junior Ranger Day on April 25, 2015! Click here to see how aspiring Junior Rangers can join in the fun at John Fitzgerald Kennedy National Historic Site, Frederick Law Olmsted National Historic Site and Longfellow House-Washington's Headquarters National Historic Site.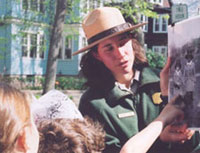 The National Parks are great places to learn about your hometown, your history and your own place in the natural world. Come to the park and tour John F. Kennedy's birthplace with a park ranger, solve puzzles, and become a Junior Ranger. In the summer, rangers lead walks that take you to the places John F. Kennedy explored and played in as a boy. Can't visit the site? You can still check out what John F. Kennedy's childhood was like through our virtual tour.
Still hungry for more National Park activities? You can become a WebRanger and travel to parks all over the country through your computer. Solve mysteries and puzzles, play games, and learn how to care for the National Parks and the stories they tell. Click here to begin your adventure as a WebRanger!