French Quarter Visitor Center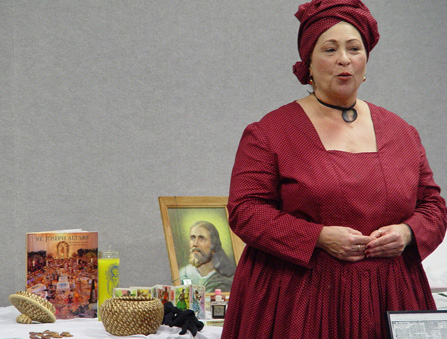 Special program: Meet Marie Laveau at the French Quarter Visitor Center 11:00 a.m.-3:00 p.m. on Saturday, March 15. In honor of Women's History Month, actress and historian Barbara Ann Trevigne will portray Laveau, "Voodoo Queen" and one of New Orleans' most famous residents. Free.
Special exhibit: Sicilian immigrants brought the traditions of St. Joseph's Day (March 19) altars to their new homes in New Orleans. Laura and Ann Guccione will create a traditional altar at the French Quarter Visitor Center on Wednesday, March 12; the altar will be on view through Saturday, March 22. Free.
---
Shortly after the French founded New Orleans in 1718, engineers drew up a formal city plan for Nouvelle Orleans---the area that we now call the French Quarter. The city quickly expanded beyond those original boundaries to become an important American port. People arrived from all over the world, joining the early inhabitants of the area to create a distinct culture rich in food, music, and tradition.
Jean Lafitte's French Quarter Visitor Center shares the history and traditions of the city and the lower Mississippi River delta through visitor center exhibits and a film. Kids can earn a badge with the Junior Ranger program. The center's bookstore has CDs, videos, collectibles, and books from history to cookbooks to children's stories. Admission is free. Click here for directions and for program listings for specific days.
419 Decatur Street, New Orleans
504-589-2636 ext. 1
Open Tuesday-Saturday 9:00 a.m.-4:30 p.m. Closed on federal holidays and Mardi Gras (Tuesday, February 17, in 2015). Useful information about public transportation, regulations on pets, etc., is available here.
Regularly scheduled programs:
Tuesday through Saturday at 9:30 a.m., rangers lead riverfront history walks to the Mississippi River, just over the levee from the visitor center, to share the story of how the city began and grew. 25 free tickets per tour are given out beginning at 9:00 a.m. Walks last about an hour. First-come, first-served; each person wanting a ticket must pick up their own ticket.
Field trips for schools and other groups by reservation.
Summer camps for kids.
For more about New Orleans, see


Did You Know?

January 8 used to be a national holiday. That's because January 8, 1815, was the date of the Battle of New Orleans.