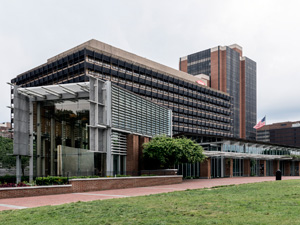 NPS photo
Location

The Liberty Bell Center is located at 6th and Market Streets. Entrance doors are located on the north end of the building, near the President's House Site. The GPS address is 526 Market Street.
Hours

Open daily from 9 a.m. to 5 p.m. Open till 7 p.m. from May 23 - September 7, 2015. Closed Christmas Day. The security screening area closes 5 minutes before the building closes.
Fees


Admission is FREE.
Ticketing

NO tickets are required. Entrance is on a first-come,
first-served basis.