Visiting the Liberty Bell Center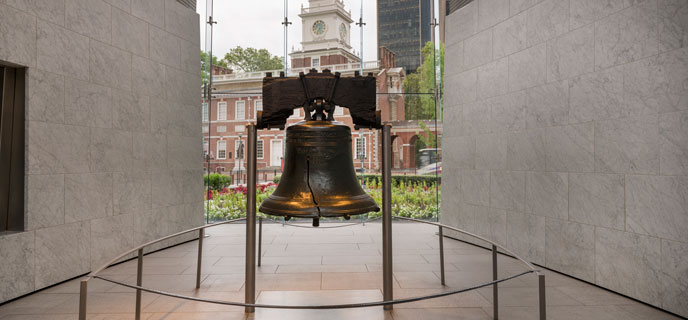 NPS photo
Location
The Liberty Bell Center is located at 6th and Market Streets. Entrance doors are located on the north end of the building, near the President's House Site. Visitors exit from the south end of the building, near Chestnut Street. The GPS address is 526 Market Street.

Hours and Fees
Open daily 9 a.m. to 5 p.m. from September 8, 2015 - May 2016. Closed Christmas Day. The security screening area closes 5 minutes before the building closes.

Admission is FREE.

Ticketing
NO tickets are required. Entrance is on a first-come, first-served basis.
Exhibits
Exhibits line the left side of the hallway in the Liberty Bell Center. Topics range from the founding of the State House bell (now known as the Liberty Bell) to its use by abolitionists, and advocates for women's suffrage. The exhibit area includes a video presentation (approximately 10 minutes long) about the Liberty Bell.

For International Visitors
The video presentation is offered in several languages. Written information about the Liberty Bell is also available in a dozen languages. Please ask a park ranger for these services.
Accessibility
The Liberty Bell Center is wheelchair accessible. The video presentation is open captioned and audio described. Assistive listening devices are available. Visitors are encouraged to touch the replica of the Liberty Bell's inscription in the exhibit area. There are NO restrooms (accessible or otherwise) in the Liberty Bell Center, but restrooms are available in the nearby Independence Visitor Center. Learn more about the accessibility services offered throughout the park on our website.
Security
Visitors must pass through a security screening area to visit the Liberty Bell Center. To maximize your visit to the park, and to minimize your security screening time, the park recommends that you bring only small bags, if necessary. No weapons, pepper spray, or pocket knives are permitted into the building.