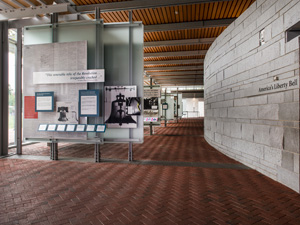 NPS photo


Bell Facts

The two lines of text around the top of the bell include the inscription of liberty, and information about who ordered the bell (Pennsylvania Assembly) and why (to go in their State House):

Proclaim LIBERTY throughout all the Land unto all the Inhabitants thereof Lev. XXV X
By Order of the ASSEMBLY of the Province of PENSYLVANIA [sic] for the State House in Philada

The information on the face of the bell tells us who cast the bell (John Pass and John Stow), where (Philadelphia) and when (1753):
Pass and Stow
Philada
MDCCLIII
The bell weighed 2,080 lbs. at order. It is made of bronze. It's 70% copper, 25% tin and contains small amounts of lead, gold, arsenic, silver, and zinc. The bell's wooden yoke is American elm, but there is no proof that it is the original yoke for this bell. While there is evidence that the bell rang to mark the Stamp Act tax and its repeal, there is no evidence that the bell rang on July 4 or 8, 1776.