Plan Your Visit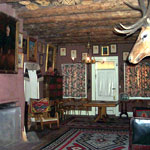 NPS photo by E.Chamberlin.
When you arrive in beautiful downtown Ganado Arizona, you find yourself wondering what can you do? Where should I go to find more information about this wonderful place?
You can head over to Hubbell Trading Post National Historic Site along the Pueblo Colorado Wash.
Among the large cottonwood trees, elm trees, and white poplar trees. The historic buildings are still standing after 100 years. National Park Service in partnership with Western National Parks Association operate the historic Hubbell Trading Post. Visit the visitor center and get more information regarding tours, events, and activities around the park and community.