Brochures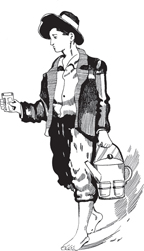 Hot Springs National Park is an unusual blend of a highly developed park in a small city surrounded by low-lying mountains abounding in plant life and wildlife. Thermal water is what attracts people to Hot Springs National Park. Old documents indicate that American Indians knew about the hot springs during the late 1700s and early 1800s. Their ancestors may have also known about the hot springs. Some believe that the traces of minerals and an average temperature of 143ºF/62ºC give the waters whatever therapeutic properties they may have. People also drink the waters from the park's cold springs, which have different chemical components and properties. Besides determining the chemical composition and origins of the waters, scientists have determined that the waters issuing from these hot springs are more than 4,000 years old. The park collects 700,000 gallons a day for use in the public drinking fountains and bathhouses.
This is a portion of the park brochure. If you want to read more,
click here
. For a map of the park, look at the top of the page in the light green bar under the words "National Park." To get a park brochure in the mail, please
contact us
with your name and postal address. The park cannot send information on lodging. You can request other area information from the
Hot Springs Convention and Visitors Bureau
.
Did You Know?

In 1892 U.S. Army Lt. Robert R. Stevens hired the noted Boston firm of Frederick Law Olmsted to create landscaping plans for Hot Springs Reservation, now Hot Springs National Park. Stevens rejected the firm's plans in 1893, but some features were adopted and still survive today.