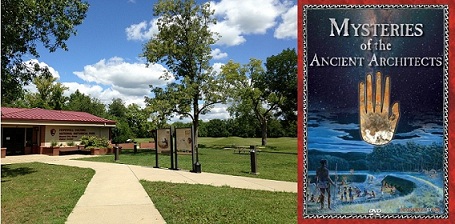 Film DVD cover photo courtesy of Camera One
Visitor Center
The park's Visitor Center at Mound City Group features the 19-minute film, Mysteries of the Ancient Architects, and a museum containing artifacts excavated from Mound City Group. Guided Tours and patio talks are available in the summer and by special arrangement. Contact the Visitor Center for more information by phone at 740-774-1126 or by email.
Interpretive Trails
A self-guided interpretive trail of the mounds is located at Mound City Group. Another trail circles the outer perimeter of these earthworks. A trail to the Central Mound at Seip Earthworks is maintained by the Ohio Historical Society. Additional trails are under Consideration at Hopewell Mound Group and Seip Earthworks.

Bring along our nature checklist to help identify birds, flowers and insects you might see along the way!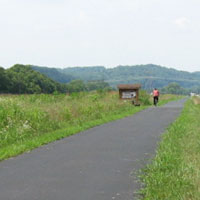 Multi-Use Trail
One mile of the Tri-County Triangle Trail runs through the park's Hopewell Mound Group unit. This multi-use trail connects the towns of Chillicothe, Frankfort and Washington Court House via a 28+ mile paved section. Parking and restrooms are located adjacent to the trail at the park's facilities on Sulphur Lick Road.