Isolated Slick Patches

Recent snowfall has created isolated slick spots throughout the park. Please use caution when visiting Mound City Group, Hopewell Mound Group and/or Seip Earthworks as isolated icy conditions may exist on sidewalks, trails and parking lots. More »
Eating & Sleeping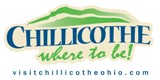 Where to Eat
While the park does not have any concessions or vending machines, there are plenty of local eateries that visitors can choose from. For a list of these local restaurants, please click here.

Where to Stay
The park does not have overnight facilities. There are many hotels and bed & breakfast's near the park in Chillicothe.

Click here to be see a list of local hotels that are near the park.
Click here to see a list of bed and breakfast's near the park.
Visitors looking for outdoor camping facilities can find several private and public (State operated) campgounds nearby.

Click here to see a list of nearby available campgrounds.
Did You Know?

The first publication of the Smithsonian Institution in 1848 was an extensive survey of archeology sites that included all of the sites at Hopewell Culture NHP. The book was authored by Ephraim Squier (left) and Edwin Davis (right), residents of the town of Chillicothe where Hopewell Culture NHP is located.