News Releases
September 19, 2014
The Great Pumpkin Walk 2014
One of the park's most popular family events is back! Gather at the visitor center to carve pumpkins in the afternoon and come back later in the evening to view illuminated pumpkins as they are displayed on the grounds.
September 01, 2014
Monarch Butterfly Tagging
Hopewell Culture National Historical Park invites the public, young and old, to join naturalists and park volunteers to participate in a Monarch Butterfly Tagging program on Sunday the 21st and Sunday the 28th.
September 01, 2014
Guided Hike to Spruce Hill Isthmus
Spruce Hill is not normally open to the public without a permit, so this is an uncommon opportunity to explore this flat-topped mesa of stone that thrusts into the scenic Paint Valley.


Did You Know?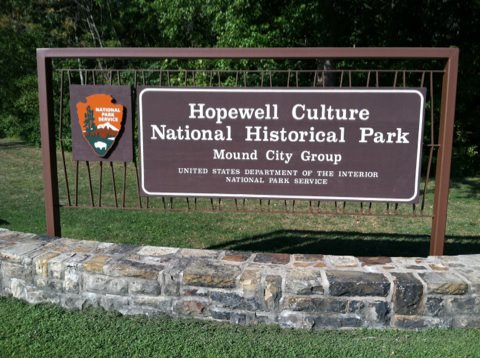 Established on March 2nd, 1923 as Mound City Group National Monument, the park was the first federally created National Park Service site in Ohio. President Warren G. Harding, a native of Ohio, established the national monument using powers granted to him under Section 2 of the 1906 Antiquities Act. The park was eventually re-named Hopewell Culture National Historical Park on May 27th, 1992 after congressional legislation was approved in the House and the Senate. More...