Fire Management
The National Park Service's Director's Order 18 requires that all parks with vegetation capable of sustaining fire develop a Fire Management Plan. There are 1,170 acres of land within Hopewell Culture National Historical Park, which are burnable. The park's Fire Management Plan covers wildland fire suppression and prescribed fire activities.
Prescribed Fire at Hopewell Mound Group Unit - 2008
The park proposed and conducted a prescribed fire at the Hopewell Mound Group unit in Autumn 2008. The purpose of the six acre fire is to reduce the accumulation of hazardous fuels, suppress tree and shrub encroachment, and re-establish the dominance of native species. Click here to view the burn plan. The fire crew used All Terrain Vehicles (ATVs) during the burn to assist them in their duties. Policies regarding the use of ATVs in the park are established. Click here to view the park's ATV Plan and here to view the Standard Operating Procedures for ATVs.
More information and a map of the burn unit is available here.
To read more about the story of this prescribed fire event, click here.


Did You Know?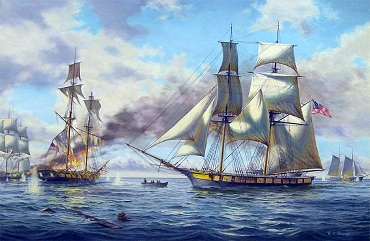 British soldiers captured during the Battle of Lake Erie during the War of 1812 were marched to a prisoner of war camp (Camp Bull) located between the present day Mound City Group visitor center, and the northern part of the city of Chillicothe. More...