Field Trips
Online Field Trip Scheduling
The available dates for 2014 spring field trip season (April through June) have not yet been added. We expect to have the dates available for online scheduling up very soon.
The Field Trips online scheduling page has not yet been fully implemented. We do not expect to fully utilize this online aspect of field-trip scheduling until the 2014-2015 school year. As most visiting schools have yet to utilize this electronic scheduling feature, you may receive a phone call if there is a scheduling conflict. Thank you for your patience and understanding as we continue to develop this new tool.
Planning your Field Trip
Typical field trips are about 2 hours in length. We understand that some classes may not be able to take in all programs offered. Before your visit a Ranger will call you and speak with you about the details of your visit. Please be sure to advise us on the amount of time that your class will be able to spend on-site. Once we confirm the visit length of your field trip with you, the Ranger can then go over which programs would be best-suited for your class's scheduled time at the park.

** Due to staffing issues, we cannot schedule on-site field trips for any Monday during the field trip season. Please call the park for Friday field trip availability and scheduling. **
Please Note: If your class's trip will not fit in the parameters of a time slot that is offered, please reserve both slots for the day that you plan on attending. Also, if the total number of students exceeds the number alloted, you will need to press "submit" twice.
Did You Know?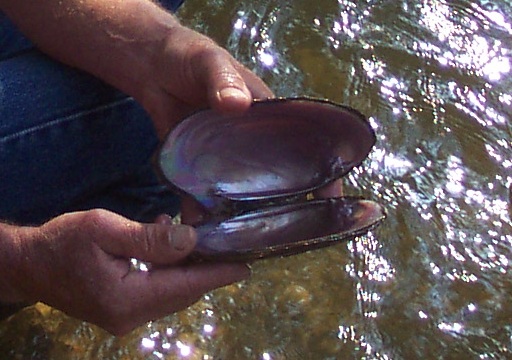 Freshwater mussels were an important resource for Hopewellian people. They were used as food, provided pearls for ornaments and shells were utilized for hoes. Although plentiful during the Middle Woodland period, over-harvesting and low water quality have reduced their numbers drastically today. Many freshwater mussels are on the State and Federal Endangered Species list. More...