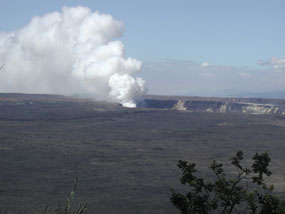 NPS Photo by Norrie Judd
Portions of the Park are Closed
Current Closures are listed below:
A portion of Crater Rim Drive, between Jaggar Museum and the Chain of Craters Road junction is closed indefinitely due to the fumes and ashfall from the vent that opened within Halemaʻumaʻu Crater in March 2008.
June 13, 2012 update: Sections of Crater Rim Trail and Crater Rim Drive (foot traffic only) have REOPENED from Chain of Craters Road to Keanakāko'i Crater >>more info
The Kaʻu Desert Trail is closed from the northeastern base of Mauna Iki Lava Sheild to Kīlauea Caldera.
The Halemaʻumaʻu Trail and the Byron Ledge Trail leading across Kīlauea Caldera is closed. The Crater Rim Trail from Jaggar Museum to the junction with Chain of Craters Road is closed.
Areas east of Nāpau Campground and Nāpau Crater are closed.
Volcanic Hazard Areas: Due to immediate and unpredictable volcanic hazards, the slopes of Puʻu ʻŌʻō, all ledges, benches and beaches formed at active lava entry points on the coast, as well as specific active lava areas as posted, are closed to all visitors unless they have a permit issued by the Superintendent allowing limited access to those areas for specific scientific research or cultural practices.
Advisory on Potential Closures:
The prevailing northeast tradewinds generally blow fumes from the volcano away from visitor areas. However, during times of weak winds or winds from the south (the opposite direction), volcanic fumes may impact visitor areas, prompting the park to close. Please be flexible and alert.
What should you do when you notice hazy/smoky/smog-like conditions (VOG)?:
Kīlauea Visitor Center and Jaggar Museum are equipped with high volume air filters that remove volcanic gasses. The park staff will close the doors and turn on the filters when the air quality is poor. If you are at one of these locations, stay inside until you are advised conditions have improved. You may be asked to evacuate.
If driving a car: Keep vehicle windows closed and run your car air conditioner until you leave the area.
Park rangers monitor air quality and will advise visitors when the situation prompts a closure. When a closure is ordered, please leave the area in an orderly manner with everyone's safety in mind. See: Visitor Alert - SO2 Advisory
---