Things To Do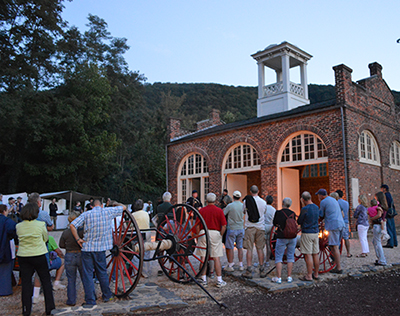 (NPS Photo/Cook)
Harpers Ferry National Historical Park offers a wide variety of activities for individuals and families. Explore museums and exhibits, hike to overlooks or along Civil War skirmish lines, join a ranger-guided tour or sign-up for a living history workshop. Shop at the Harpers Ferry Historical Association's Bookshop for books, artwork, postcards, and items for kids of all ages. Talk to rangers and volunteers at the Visitor Center and Information Center who will assist you and answer any questions you may have. Visit us soon and discover your Harpers Ferry.
For more information on Things to Do at Harpers Ferry National Historical Park, please see the descriptions and links below. As always, if you have any questions please contact the Visitor Center at 304-535-6298 or
email us
.

Did You Know?

Harpers Ferry changed hands 8 times during the Civil War. These Union troops posed for a picture on Camp Hill in Harpers Ferry in October, 1862.