Temporary Suspension of Reference Collection Research

Due to preservation and maintenance work scheduled for the park archives and research room/library space, new public research requests will not be filled from June 1st to at least January 30th, 2014.
Change in Park Hours

Beginning November 1, the park will be open daily from 9 a.m. to 5 p.m. with the last shuttle bus departing Lower Town at 5:15 p.m. More »
Things To Do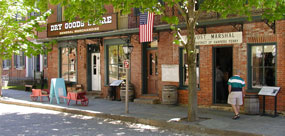 National Park Service
Harpers Ferry Park offers a wide variety of activities for individuals and families. Visit our many museums and exhibits, hike our trails, join a ranger-guided tour or just tour on your own. The Harpers Ferry Historical Association's Bookshop has a great supply of books, artwork, postcards and items for kids of all ages. Rangers and volunteers at the Visitor Center and Information Center are available to assist you and answer any questions you may have. Visit us soon and discover Harpers Ferry.


Did You Know?

John Brown's Fort has been moved 4 times: in 1891 to Chicago to the World's Columbian Exposition, in 1895 to the Murphy Farm near Harpers Ferry, in 1909 to Storer College Campus and in 1968 to its present location.