Guadalupe Mountains Youth Centennial Poster Contest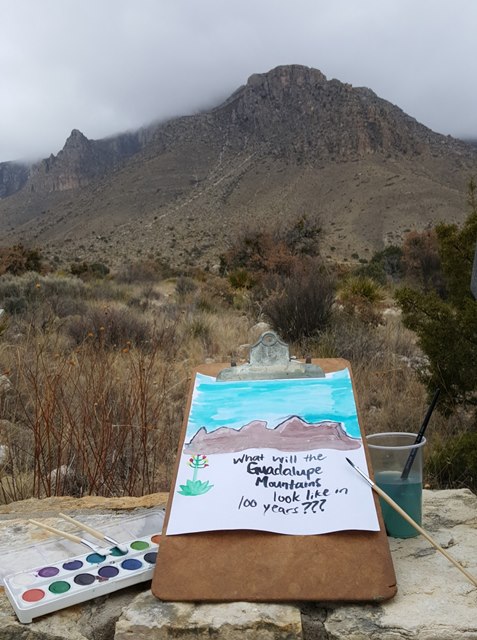 NPS Photo
What do you think Guadalupe Mountains will look like in 100 years?
Guadalupe Mountains wants to invite youths ages 6-18 to participate in the park's Centennial Poster Contest. Entries will be accepted until April 30, 2016. Download the entry form here.
Who can participate?
All ages 6-18 can submit artwork for the contest. Once submitted all art work becomes property of National Park Service and will not be returned to the artist. Submitted art work will be used to support and promote te NPS Centennial program online and through promotional materials.
What should you draw or paint?
Participants can draw or paint the Guadalupe Mountains National Park as they hope it will be in the next 100 years. What will it look like? Will there be mountains, Chihuahuan desert habitat and animals? Remember that accuracy counts so visit the Guadalupe Mountains National Park for a hike and study the wildlife and plants that live in this landscape, or go online and research. Check out the Guadalupe Mountains National Park website to see what type of plants and animals are found in the Chihuahuan desert.
What should I use to create my contest submission?
All poster submissions must be on at least an 8 1/2" x 11" poster board or piece of paper. Suggested media can be crayons, pastels, color pencils, markers, pen and ink or paint.
What can I win?
The winning entry will receive a gift certificate and have their winning entry made into the Guadalupe Mountains Centennial Poster. The winning drawing will also be featured on the 2017 Guadalupe Mountains Annual Pass. Three honorable mention entries will also be awarded. Check the website for more information about prizes and contest rules.
---
The National Park Service turns 100 on August 25, 2016. To us, it's not about cakes and candles — it's about being an organization ready to take on the challenges of our second century. As we lead up to the centennial, we invite you to participate in Find Your Park Experiences to learn, discover, be inspired, or simply have fun in national parks. Find Your Park Experiences offer unique opportunities to explore national parks both in person and online. You can also share your national park story at
FindYourPark.com
.
A Call to Action
remains the foundation for our 2016 centennial preparations. It is the National Park Service's blueprint for the future, outlining the innovative work we want to accomplish. Guadalupe Mountains National Park is a part of this effort.