Partial Closure on Horn Island

Small portion of Horn Island, Mississippi, closed to entry due to discovery of asbestos and possible other bio hazards. Click on more for map and press release. More »
Shorebirds Nesting Near Roads - 20 mph

Shorebirds are nesting near roads and cross the road regularly. Observe posted speed limits and be alert for tiny birds on the roads. Last year 155 birds were killed on park roads, help us reduce the mortality rate of these beautiful birds and go slow.
Operating Hours & Seasons
All Visitor Centers will be closed on Thanksgiving, Christmas, and New Years Day.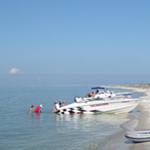 nps photo
All of the Mississippi islands in the Seashore are open to park visitation unless posted.
Davis Bayou Area 6:00 am - 10:00 pm.
Visitor Center 8:30 am - 4:30 pm Monday - Sunday
Visitor Center Grounds 8:00 am - sunset.
West Ship Island 7:00 am - sunset.
Fort Massachusetts 10:00 am - 4:30 pm (Summer) or 10:00 am - 2:00 pm (Spring) closed in Fall until March.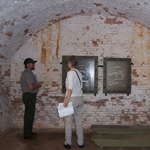 nps photo
All areas of the Florida District are open year-round unless posted. Operating hours vary seasonally and from unit to unit. Visitors with back country camping permits for the Perdido Key Area or Night Owl permits for Fort Pickens or Perdido Key Areas may access those places after evening closures.
Naval Live Oaks Area open 8:00 am - sunset.
Naval Live Oaks Visitor Center 8:30 a.m, - 4:30 p,m, daily.
Fort Pickens Area is open daily from 7:00 am until sunset.
Fort Pickens Visitor Center and Museum are open: March - October 9:30 a.m. - 5:00 p.m. and November - February 8:30 a.m. - 4:00 p.m.
Fort Barrancas - Open March - October 9:30 a.m. - 4: 45 p.m. Call (850) 934-2600 or (850) 455-5167 for winter hours.
Advanced Redoubt - Only open Saturday for Ranger-led tours at 11:00 a.m.
Okaloosa Area (Day Use Only) 8:00 am - sunset.
Santa Rosa Area (Day Use Only) 8:00 am - sunset.
Perdido Key Area (Day Use Only) 8:00 am - sunset (Extended hours for primitive camping and fishing permits).


Did You Know?

In the 1880s, Geronimo and other members of the Chiricahua-Apache tribe were prisoners at Fort Pickens located at Gulf Islands National Seashore.