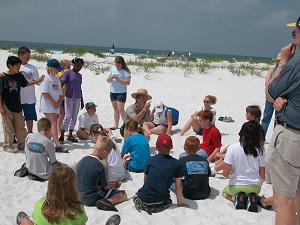 Gulf Islands National Seashore is committed to keeping the park
affordable, but we also want to provide the visitors with the best experience.
~Gulf Islands National Seashore

Superintendent Dan Brown
One hundred percent of the fees collected at national parks are used by the park service for the improvement and maintenance of park facilities and programming. Eighty percent of the fees collected here are used to replace and improve facilities throughout this park.
Starting June 14, 2015 New Fee Increase in Effect.

Seven Day Entrance Pass:
Covers the entrance fee for Perdido Key, Fort Pickens, and Santa Rosa (Opal Beach) for 1 to 7 days.

Per Person

$7

Per Motorcycle

$10

Private Vehicle (less than 15 passenger capacity)

$15

Per Person for private vehicle with more than 15 passenger capacity.

$7 per person (limited to $25)
Gulf Islands National Seashore Annual Pass:
Covers all areas in Gulf Islands National Seashore charging an entrance fee until the end of the month one year after purchase. This pass can be purchased at the Fort Pickens Entrance Station, Perdido Key Entrance Station, and Davis Bayou Campground.

Admits up to 4 individuals or per vehicle with less than 15 passenger capacity.

$30
Gulf Islands National Seashore Specialized Annual Passes:
After Hours Pass and Boat Launch

Davis Bayou Annual Boat Launch Pass

Admits one boat per day

$20

Night Owl Pass for after hours access.

Admits a vehicle with less than 15 passengers or up to 4 individuals

$30
America the Beautiful-
The National Parks and Federal Lands Use Passes
An entrance pass for national parks and federal lands open to recreational use.
Permits up to 4 individuals or per vehicle with less than 15 passenger capacity.

This pass can be purchased at the Fort Pickens Entrance Station, Perdido Key Entrance Stations, and Davis Bayou Campground Office.

Annual Pass- End of month a year after purchase.

For purchase by anyone. More>>

$80

Senior Pass- Lifetime Pass

For purchase by U.S. citizens who are 62 years of age or older. Must show a photo identification with birthdate for verification. More>>
Admits up to 4 individuals or per vehicle with less than 15 passenger capacity.

$10

Access Pass- Lifetime Pass

For visitors with disabilities that severely limit one or more major life activities. More>>

Free

Active Duty Military (Must be active military or dependent.

For active duty military and their dependents. More>>

Free
Davis Bayou Camping, Boat Launch and Dump Station Use

Make Reservations at http://www.recreation.gov or call 1-877-444-6777

1 site/night with 1-8 person occupancy

$22

1 group site/night with 10-25 person occupancy

$20

1 group site/night with 26-40 person occupancy

$30

1 Day using the Davis Bayou Boat Launch
(Annual Boat Launch Pass is $20, see above)

$3

1 Dump Use fee for non-registered campers.

$5
Fort Pickens Campground

Make a reservation at http://www.recreation.gov or call 1-877-444-6777

1-8 person occupancy

$22

Group site for 10-25 person occupancy

$20

Group site for 26-40 person occupancy

$30

Dump station use fee for non-registered campers

$5
Naval Live Oaks Youth Group Tent Camping

10-25 person occupancy per night

$20

26-40 person occupancy per night

$30
Special Park Uses: Pavilion Rental
Please pay with two checks, since the $50 administration fees in not refundable.

Email us to check pavilion availability or call 850-934-2605.

Non-refundable application/administration fee

$50/day

Non-routine maintenance recovery fee (refundable upon cancellation)

$20/day
Special Park Uses: Commercial Group Entrance Fee Rate for 7 Days

Up to 6 person capacity vehicle
includes an additional fee per person.

$25 + $3/person

Commercial vehicle 7-25 capacity vehicle

$40

Motor Coach: 26+ capacity

$100