Jenny Lake Visitor Center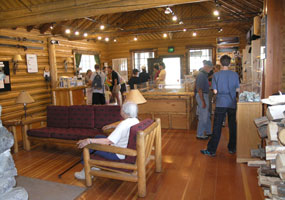 The Jenny Lake Visitor Center offers trip planning, weather and camping information.
Rangers lead a variety of programs throughout the day including a hike to Inspiration Point, a talk about "Climbing the Tetons" and a variety of evening programs. Please refer to the park newspaper for current schedules.
Become a Junior Ranger of any age! Either complete a worksheet and one ranger-led program, or during the summer attend a Jr. Ranger program limited to 8-12 year olds.
This cabin was once the studio for park photographer and artist Harrison Crandall. View one of his original paintings and a hand-tinted photograph hanging beside the fireplace.
Enjoy the colorful exhibits on geology and ecology and a raised relief map of the park. Watch a short animated geology film about formation of the Teton Range, experience Teton Range rocks hands-on. The raised relief map provides a birds-eye-view of the valley, canyons, lakes and peaks.
If you wish to relax on a chilly morning or a rainy day, warm up by the fireplace.