Craig Thomas Discovery & Visitor Center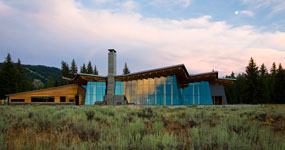 Pietrzak
The Craig Thomas Discovery and Visitor Center (CTDVC) offers trip planning, weather, permits and camping information. Learn more about the CTDVC here.
Rangers lead a variety of programs throughout the day including a hike to Taggart Lake, a stroll to the Murie Ranch, a tour of Menor's Ferry, a number of short presentations and an evening slide show. Please refer to the park newspaper for current schedules.

Become a Junior Ranger of any age! Either complete a worksheet and one ranger-led program, or during the summer attend a Jr. Ranger program limited to 8-12 year olds.

Enjoy modern displays that explore the themes of place, people, preservation and mountaineering. A raised relief map of the park provides a birds-eye-view of the valley, canyons, lakes and peaks. Follow peak identifiers inlaid in the floor to view your favorite peak. Watch a 24-minute high-definition movie Grand Teton National Park: Life on the Edge by Discovery Communications, Inc., or take a stroll along the Video Rivers.

Visit the permits desk for backpacking information and permits, or to purchase a boat permit.