Bears are active in Grand Teton

Black and grizzly bears are roaming throughout the park--near roads, trails and in backcountry areas. Hikers and backcountry users are advised to travel in groups of three or more, make noise and carry bear spray. Visitors must stay 100 yards from bears. More »
Multi-use Pathway Closures

Intermittent closures of the park Multi-use Pathway System will occur through mid-October during asphalt sealing and safety improvement work. Pathway sections will reopen as work is completed. Follow the link for a map and more information. More »
Moose-Wilson Road Status

The Moose-Wilson Road between the Death Canyon Road and the Murie Center Road is currently open to all traffic. The road may re-close at any time due to wildlife activity. For current road conditions call 307-739-3682. More »
Colter Bay Visitor Center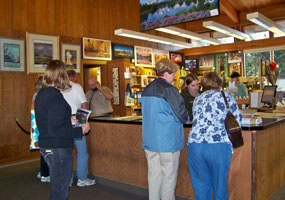 The Colter Bay Visitor Center offers trip planning, weather, permits and camping information.
Rangers lead a variety of programs throughout the day including a hike to Swan Lake, a lakeshore stroll, a tipi demonstration, Indian arts and culture, wildlife watches, short presentations on park highlights, and a variety of evening programs. Please refer to the park newspaper for current schedules.

Become a Junior Ranger of any age! Either complete a worksheet and one ranger-led program, or during the summer attend a Jr. Ranger program limited to 8-12 year olds.

Enjoy 35 never before see Indian artifacts from the David T. Vernon collection. Visiting Indian artists from around the country demonstrate and sell their artwork in the lower level of the museum during the summer.

Visit the permits desk for backpacking information and permits, or to purchase a boat permit.
Did You Know?

Did you know that until the 1890s no one had settled on the west bank of the Snake River in the central part of Jackson Hole? William "Bill" Menor built a ferry at Moose to shuttle patrons across the river, the only reliable crossing point between Wilson and Moran.