Seasonal road closures in effect

Seasonal road closures are in effect for motorized vehicles. The Teton Park Road is closed from the Taggart Lake Trailhead to the Signal Mountain Lodge. The Moose-Wilson Road is closed from the Granite Canyon Trailhead to the Death Canyon Road. More »
Avalanche hazards exist in the park

Avalanche hazards exist in the park, especially in mountain canyons and on exposed slopes. A daily avalanche forecast can be found at www.jhavalanche.org or by calling (307) 733-2664. More »
Bears emerging from hibernation

Bears are beginning to emerge from hibernation. Travel in groups of three of more, make noise and carry bear spray. Visitors must stay at least 100 yards from bears. More »
Colter Bay Visitor Center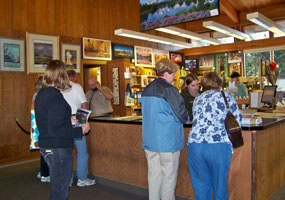 The Colter Bay Visitor Center offers trip planning, weather, permits and camping information.
Rangers lead a variety of programs throughout the day including a hike to Swan Lake, a lakeshore stroll, a tipi demonstration, Indian arts and culture, wildlife watches, short presentations on park highlights, and a variety of evening programs. Please refer to the park newspaper for current schedules.

Become a Junior Ranger of any age! Either complete a worksheet and one ranger-led program, or during the summer attend a Jr. Ranger program limited to 8-12 year olds.

Enjoy 35 never before see Indian artifacts from the David T. Vernon collection. Visiting Indian artists from around the country demonstrate and sell their artwork in the lower level of the museum during the summer.

Visit the permits desk for backpacking information and permits, or to purchase a boat permit.
Did You Know?

Did you know that pronghorns are the fastest mammals in the western hemisphere? They can run up to 70 mph, but do not like to jump fences! In the summer, pronghorn live along Antelope Flats Road, but in fall they migrate almost 200 miles to central Wyoming.