Trail Advisory

Several trails in the park are temporarily closed. Please check the "Backcountry Facilities" section of the Temporary Road and Facilities Closures page for further details. More »
Hike to Alum Cave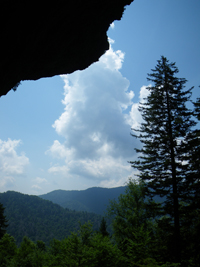 Hike through a rock arch on this scenic trail through old-growth forest and enjoy spectacular views of the Smokies high country.
Details about taking this hike:
Trail: Alum Cave Bluffs Trail
Driving to the Trailhead: Drive 8.6 miles on Newfound Gap Road from Sugarlands Visitor Center or 20 miles from Oconaluftee Visitor Center. There is a sign and two large parking areas marking the trailhead.
Hiking Distance: 2.5 miles one way to Alum Cave Bluffs
Trail Conditions: Elveation change of 1,200 feet; the trail is steep and follows the edge of the ridge in sections
Notes: Alum Cave Bluffs Trail continues past Alum Cave Bluffs for a total of 5.0 miles to just below the summit of Mt. Le Conte.
Did You Know?

The wispy, smoke-like fog that hangs over the Smoky Mountains comes from rain and evaporation from trees. On the high peaks of the Smokies, an average of 85 inches of rain falls each year, qualifying these upper elevation areas as temperate rain forests. More...