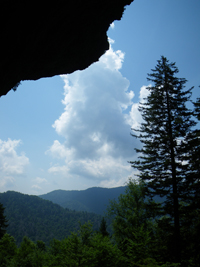 Hike through a rock arch on this scenic trail through old-growth forest and enjoy spectacular views of the Smokies high country.
Details about taking this hike:
Trail: Alum Cave Bluffs Trail
Driving to the Trailhead: Drive 8.6 miles on Newfound Gap Road from Sugarlands Visitor Center or 20 miles from Oconaluftee Visitor Center. There is a sign and two large parking areas marking the trailhead.
Hiking Distance: 2.5 miles one way to Alum Cave Bluffs
Trail Conditions: Elveation change of 1,200 feet; the trail is steep and follows the edge of the ridge in sections
Notes: Alum Cave Bluffs Trail continues past Alum Cave Bluffs for a total of 5.0 miles to just below the summit of Mt. Le Conte.