Spring Road Status

During spring, park roads may close due to ice, especially at high elevation where wet roads can freeze as temperatures drop at night. For road status information call (865) 436-1200 ext. 631 or follow updates at http://twitter.com/SmokiesRoadsNPS. More »
Hike to Alum Cave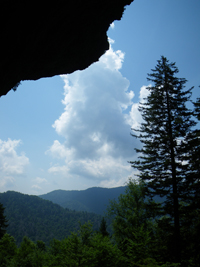 Hike through a rock arch on this scenic trail through old-growth forest and enjoy spectacular views of the Smokies high country.
Details about taking this hike:
Trail: Alum Cave Bluffs Trail
Driving to the Trailhead: Drive 8.6 miles on Newfound Gap Road from Sugarlands Visitor Center or 20 miles from Oconaluftee Visitor Center. There is a sign and two large parking areas marking the trailhead.
Hiking Distance: 2.5 miles one way to Alum Cave Bluffs
Trail Conditions: Elveation change of 1,200 feet; the trail is steep and follows the edge of the ridge in sections
Notes: Alum Cave Bluffs Trail continues past Alum Cave Bluffs for a total of 5.0 miles to just below the summit of Mt. Le Conte.
Did You Know?

About 100 native tree species make their home in Great Smoky Mountains National Park—more than in all of northern Europe. The park also contains one of the largest blocks of old-growth temperate deciduous forest in North America. More...