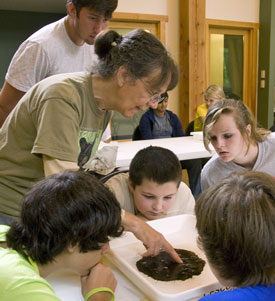 Photo copyright Kevin FitzPatrick.
It all started in 1998. That year, the Great Smoky Mountains National Park, along with Friends of the Smokies, the Great Smoky Mountains Association, many local, regional and nationally well-known scientists, and other interested parties came together with a new, exiting idea: to discover every living thing in the Smoky Mountains. To do this, they created a new non-profit partner: Discover Life in America (DLIA), whose goal was—and is—to bring researchers to the park to search for life in forests, soils, caves, and every other habitat in these mountains. The collective effort to do so is called the All Taxa Biodiversity Inventory, or ATBI.
Over the past 12 years, Discover Life in America has organized searches for life with public volunteers, university researchers, and amateur specialists. They have funded dozens of research projects and hosted thousands of visitors who worked side by side with scientists sifting through soil for millipedes, wading upriver to collect tardigrades, and crouching in a sun-dappled forest peering at ferns, among other projects. Although their numbers are small, DLIA staff, including Executive Director Todd Witcher, Database Technician Chuck Cooper, and Administrative Assistant/Volunteer Coordinator Heather MacCulloch, organize a massive scientific effort each year. They also host an ever-growing, annual Discover Life in America conference to highlight the results of species discoveries at the Smokies and in protected areas nationwide.