Partner Profile: Documenting Elkmont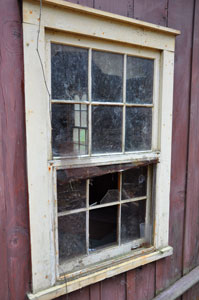 NPS photo.
We begin photographing at one of the most isolated cabins in Elkmont.
Unlike many of the others that stand along the road, this one sits at the end of a wooded path crisscrossed by fallen pines. Its broken window panes reflect a grey sky, and a sagging porch, once a shady haven, clings to its back. Many of Elkmont's cabins, summer homes, stables, and hotels were built in the early 1910s and 1920s, and by now, many have decayed beyond repair. Porous roofs have let water seep in and turn floorboards to rotten wood mush. People breaking into homes have snapped locks and splintered doors, as well as looted household goods and even fragments of the buildings themselves. Structures in this condition usually have to be torn down because they are too dangerous to enter, let alone restore. Several of the structures in Elkmont that are in better condition—often the ones with metal roofs—are possible candidates for historic preservation.
Today, James Rosenthal is entering each of the dilapidated and rotted-beyond-repair cabins to take photographs
, because they are important to document for posterity even if they can't be physically saved. James is a photographer for the Historic American Buildings Survey/Historic American Engineering Record/Historic American Landscapes Survey (HABS/HAER/HALS), a long name for a Division of the National Park Service that preserves images and history of the nation's buildings. Every historic structure that the federal government—and therefore the American people—owns must be documented through photographs so we know what resources exist. That documentation is carefully archived in the Library of Congress.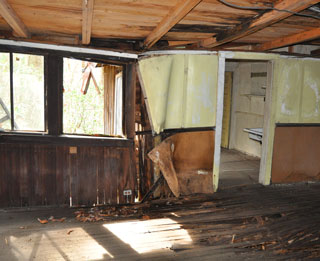 NPS photo.
James enters the cabins tentatively
. In some, the floorboards bend under our feet; in a few, they snap and James ends up breaking through, and standing on the dirt below. Some cabins stand on stilts high above Jakes Creek; in these, James is very careful to watch where he steps, checking for the slightest sogginess that could send him falling 30 feet to rocks below. After he's sure a floor will hold, he sets up portable flash lighting to illuminate the interior details of the home: the woodwork, the care that fingers took in laying a brick fireplace, and the natural light streaming through windows onto well-worn floors below.
Even though these particular houses won't be preserved, James says he treats them the same way he would any fine example of architecture. That's where the science comes in: it's in the process of documenting and creating a comprehensive photographic document that represents the essence of a home and those who built it, regardless of its grandeur.
Go to page 2:
the art of photography
.