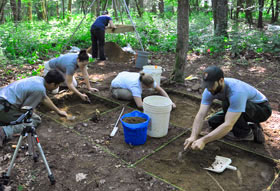 NPS photo.
When archeologists uncover artifacts
, they don't automatically start an excavation. They document the site by taking photos, GPS (Geographic Positioning System) points, and map markings. Then they carefully measure and note the soil layers, which will give them clues about the age of any artifacts. For example, red clay soils are usually older than fluffy, black soils, so sherds (broken pieces) of pottery found there may be left from many centuries before those in another layer. Floods, farming, fire, and other changes in the land can shift artifacts, so piecing together the whole picture takes a skilled eye and patience.
Because there are so many archeological resources in the park, it would take a very long time to excavate them all. In some cases, it would also cause a lot of damage to the site itself and to native plants and animal habitat. To use the small archeology crew's time effectively and to reduce harm to natural and cultural resources, archeologists only excavate the footprint of a proposed building in future construction sites. When the park plans a new building—a large one such as the visitor center at Oconaluftee, or a small one such as a vault toilet at Cataloochee (featured in the podcast)—archeologists dig shovel tests, and if any artifacts are found, excavate the area in careful layers.