NPS Profile: Uncovering the past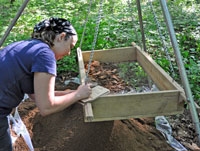 NPS photo.
Go into the field with archeologists in this PODCAST
as they search for signs of past life in the Smoky Mountains. You can also access a
text-only pdf transcript
of the podcast.
To figure out the human history of a landscape
, archeologists Erik Kreusch, technician Heath Bailey, and seasonal crews hike to landscapes where humans could have hunted, traded, or lived in the past. The Smoky Mountains range from craggy, crumbling mountainsides to level meadows. The sites where you would like to set up camp are also the places people in the past preferred: wide, shady coves at low elevations and grassy, flat gaps at high elevations. These sites weren't always easy to reach on foot (and they still aren't), but for their effort people had fertile soil for planting, or, at the high elevations, ideal hunting and food gathering grounds.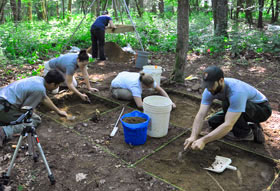 NPS photo.
When archeologists uncover artifacts
, they don't automatically start an excavation. They document the site by taking photos, GPS (Geographic Positioning System) points, and map markings. Then they carefully measure and note the soil layers, which will give them clues about the age of any artifacts. For example, red clay soils are usually older than fluffy, black soils, so sherds (broken pieces) of pottery found there may be left from many centuries before those in another layer. Floods, farming, fire, and other changes in the land can shift artifacts, so piecing together the whole picture takes a skilled eye and patience.
Because there are so many archeological resources in the park, it would take a very long time to excavate them all. In some cases, it would also cause a lot of damage to the site itself and to native plants and animal habitat. To use the small archeology crew's time effectively and to reduce harm to natural and cultural resources, archeologists only excavate the footprint of a proposed building in future construction sites. When the park plans a new building—a large one such as the visitor center at Oconaluftee, or a small one such as a vault toilet at Cataloochee (featured in the podcast)—archeologists dig shovel tests, and if any artifacts are found, excavate the area in careful layers.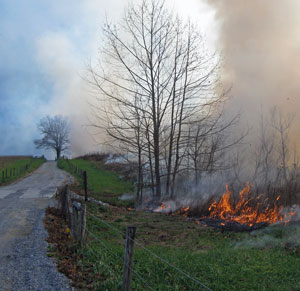 NPS photo by Heath Bailey.
Archeologists spend the majority of their time testing sites to make sure the park is a responsible steward
of its archeological resources as it changes the landscape. These changes include placing utility lines, rerouting trails, and constructing new buildings. They also include resource management work such as installing scientific monitoring stations, planning prescribed burns, and restoring fields of native grassland. In most cases, if a crew finds a significant archeological site, the project is shifted so it doesn't harm the archeological artifacts.
Wonder what signs of past life
archeologists have found during their tests? Go to
page 2
:
Pieces of a larger picture
to find out.
Return to
Dispatches from the Field: Cultural Resources.