Park Campground and Medano Pass Road Closed for Winter

The Pinon Flats Campground and Medano Pass Primitive Road are closed for the winter season. More »
Main Park Phone Lines Down

A snowstorm on March 2 knocked out the main phone lines to the Visitor Center and primary park numbers (719-378-6300, 719-378-6395, 719-378-6399). Individual staff lines are still functional. Please call 719-378-6343 to reach the Visitor Center.
Operating Hours & Seasons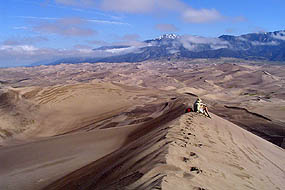 NPS/Scott Hansen
Great Sand Dunes National Park and Preserve is open 24 hours a day, every day of the year. In winter, the Visitor Center hours are 9:00 a.m. to 4:30 p.m. daily, except for federal holidays, when the building is closed. The Visitor Center has longer hours in spring, summer and fall; call ahead at 719-378-6395 for specific Visitor Center information and hours for the time of your visit. In 2013, summer hours for the Visitor Center begin May 26; hours are 8:30-6 daily.


Did You Know?

The Ladies' PEO organization led the original effort to make Great Sand Dunes a national monument in 1932. Pictured at left is Myrtle Woods, a member of PEO at that time. More...