Voice Mail Not in Service

Voice Mail at the park is currently out of service. Please call the Visitor Center at 719-378-6395 between 9:00-5:00 MST to reach a staff member.
Operating Hours & Seasons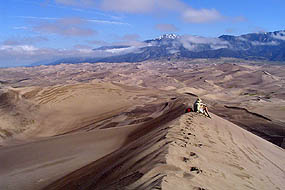 NPS/Scott Hansen
Great Sand Dunes National Park and Preserve is open 24 hours a day, every day of the year. In winter, the Visitor Center hours are 9:00 a.m. to 4:30 p.m. daily, except for federal holidays, when the building is closed. The Visitor Center has longer hours in spring, summer and fall; call ahead at 719-378-6395 for specific Visitor Center information and hours for the time of your visit. In 2013, summer hours for the Visitor Center begin May 26; hours are 8:30-6 daily.


Did You Know?

The 750' dunes look small from the alpine summit of 13,297' Mt. Herard, part of Great Sand Dunes National Preserve. More...