The Great Sand Dunes, and most of the forests, lakes and peaks of Great Sand Dunes National Preserve, are designated wilderness. These areas can be explored by day hikes or overnight backpacking trips.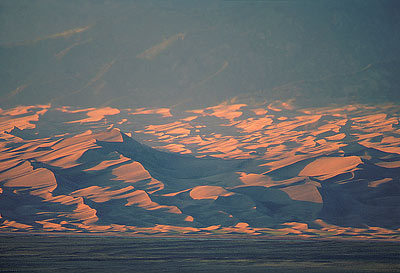 NPS/Patrick Myers
Dunes Exploration
Explore any part of the 30 square mile dunefield you wish; there are no designated trails in the sand. A dunes-accessible wheelchair is available for free loan at the Visitor Center. In summer months, plan to hike the dunes in morning or evening to avoid 150F degree sand temperatures or thunderstorms.
When there's water in Medano Creek at the base of the dunes, adults and kids alike love to splash in the stream. Watch for waves in the water, a phenomenon called "surge flow." As mounds of sand form and fall in the creek bed, water surges, similar to the action of waves at a beach. Watch a video, get detailed tips for enjoying the creek, and find current conditions and forecast flow on the Medano Creek page.
The Tallest Dunes
There are five dunes over 700 feet tall. The "High Dune" on the first ridge is neither the highest in elevation nor the tallest in the park, but it looks that way from the main parking lot. This is the most common destination in the dunefield, providing a great view of the entire dunefield. It is about 699 feet (198 m) high. Cross the flats and zigzag up the ridgelines to reach it. Average round trip hiking time to the High Dune on the first ridge is 2 hours. From High Dune, the tallest dune you see to the west is Star Dune, rising 750 feet (229 m) from base to top. It is the tallest dune in North America. To reach it from High Dune, journey another mile and a half up and down across the dunes to its summit. Average round trip hiking time to Star Dune is about 5 hours. The highest dunes above sea level at Great Sand Dunes are those closest to the Sangre de Cristo Mountains.
Eastern Dune Ridge
By high clearance 4WD vehicle, drive to Sand Pit or Castle Creek Picnic Areas. Or, with 2WD vehicle, drive to Point of No Return, then hike 3/4 mile (1.3K) to Sand Pit or 1.5 miles (2K) to Castle Creek. Castle Creek Picnic Area offers an impressively tall, steep dune face. Both areas have access to Medano Creek, which usually flows through autumn in this area.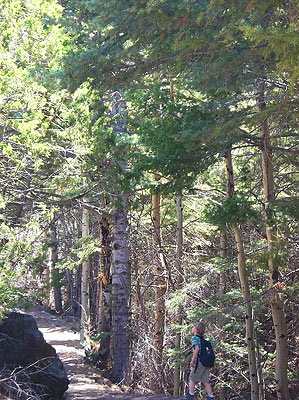 NPS/Patrick Myers
Forested Trails
Montville Nature Trail
In summer, keep this hike as an option for afternoon as an escape from the heat of the dunes. Walk along a shady forested trail named for a late 1800s settlement, comprising 20 houses in its heydey. Rest near the trail's highpoint, where you'll find outstanding views of Mt. Herard, the dunes and the valley.
(Please be aware that hunting is permitted during fall in Great Sand Dunes National Preserve, the higher mountainous areas above the dunes. Check with a park ranger for details.)

Mosca Pass Trail
This trail follows a small creek to the summit of a low pass in the Sangre de Cristo mountains, winding through aspen and evergreen forests. Allow 2-3 hours to reach the pass; the trail is 3 1/2 miles (5.7 km) one way. American Indians and early settlers used this route for travel into the valley.

Sand Ramp Trail
This 11 mile trail is most commonly used as an access to various backpacking sites along the foothills, rather than as a destination trail for scenery, since it stays at the same elevation along the base of the mountains. Begin hiking the Sand Ramp Trail in Loop 2 of the campground or at Point of No Return Parking area. After the first two miles, much of this trail is sandy soil or pure sand, up and down along the foothills, so this hike can be grueling. Allow for more time than the mileage indicates.
Driving this road requires high clearance 4-wheel drive (not recommended for small sport utility vehicles). A scenic drive any time of the year, it is especially spectacular in fall. Creek crossings can be hazardous in spring and the road is closed when winter conditions create hazards. For those without a 4WD vehicle, consider taking the Oasis 4-wheel drive tour, offered May through October at the Oasis store near the park boundary. Current road conditions and detailed information.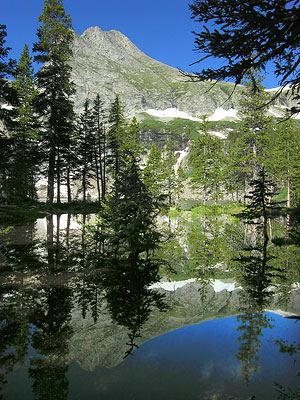 NPS/Kris Illenberger
Alpine Trails
Medano Lake and Mount Herard
This trailhead is accessed from the Medano Pass 4WD road. Beginning at 10,000' elevation, the trail climbs 2000' through lush meadows and forests, ending at an alpine lake at timberline. For advanced hikers, continue on to the summit of 13,297' Mount Herard for a spectacular aerial view of the dunes.
Music Pass, Sand Creek Lakes, and Other Alpine Peaks
A longer drive and/or a long hike is required for these destinations. However, the stunning alpine scenery is worth the effort. Check with a ranger for conditions before travel. Snow may block these trails from November into June. The trailhead for Music Pass from the east is accessed from Highway 69, 4.5 miles south of Westcliffe. Turn off Highway 69 to the west at the sign for Music Pass and South Colony Lakes Trailhead. At the "T" junction, turn left onto South Colony Road. At the end of the ranch fence on the right, you'll see another sign for Music Pass.
2WD drivers should park where the Rainbow Trail crosses Music Pass Road. From here, walk 3.5 miles to the pass.
4WD drivers may drive another 2.5 miles to the end of the road. From here, it is just a steep one mile hike to the pass.
Music Pass is at treeline, with a great view of the Upper Sand Creek basin. From the pass, hike farther to four alpine lakes, or to any one of the 13,000' peaks above the basin.
Hiking Mileages From Music Pass Summit
Lower Sand Creek Lake: 3 miles
Upper Sand Creek Lake: 3.5 miles
Little Sand Creek Lakes: 8 miles

"The Essential Guide to Great Sand Dunes National Park and Preserve", available in the Visitor Center bookstore, has climbing information for the peaks. You may also access these lakes and peaks via the Sand Ramp Trail, connecting with the Sand Creek Trail from the west, but keep in mind this is a very long hike. In early summer the lower sections of Sand Creek Trail are often impassible due to high water in Sand Creek. Check with a ranger for conditions and details by calling the Visitor Center, 719-378-6395.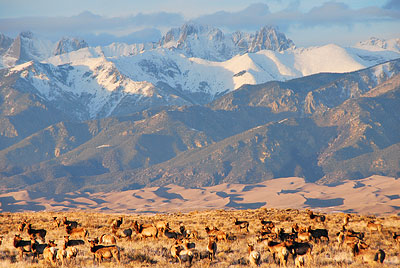 NPS/Patrick Myers
Grasslands and Shrublands
The spacious grasslands and shrublands of the national park are the least visited area, yet they contain spectacular wildlife, migrating dunes, panoramic mountain views, and intricate beauty. See details on accessing grasslands in and around the national park.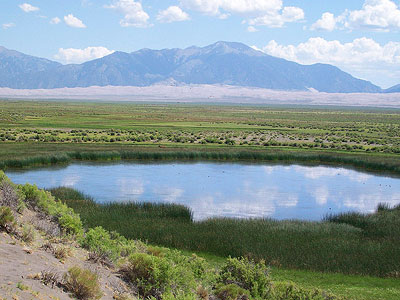 NPS/Patrick Myers
Wetlands
Wetlands abound in the San Luis Valley, providing refreshing oases for wildlife and people in this high mountain desert. See details on accessing the wetlands in and around Great Sand Dunes National Park.
Most hiking areas listed on this page are open to backpacking. Free backcountry permits are required for overnight backpacking trips originating in the national park: inquire at the Visitor Center for site availability, current conditions, and your permit. Please note that permits must be obtained in person during Visitor Center hours: 8:30 a.m. to 6 p.m. summer; 9 a.m. to 4:30 p.m. fall, winter and spring. Permits are not available in advance, or after Visitor Center hours. Plan to use Leave No Trace guidelines.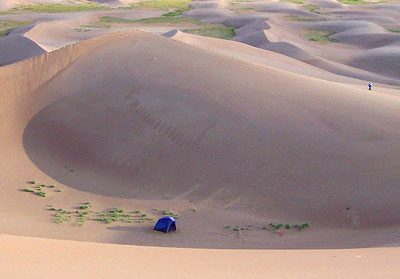 NPS/Kris Illenberger
Backpacking in the Dunes
The most popular and unique backpacking option, camping is permitted anywhere in the 30-square-mile dunefield outside of the day use area (about 1.5 mile hike minimum over dunes). Enjoy wide open views of the starry sky or a bright moonlit night. Plan to camp in the dunes only when weather is calm and clear to avoid blowing sand or dangerous thunderstorms with lightning. Limit 10 parties in the dunefield per night; permits are first-come, first-served. The dunefield sometimes fills to camping capacity on busy summer weekends. Dogs are not permitted in the dunes backcountry. Please see detailed map of permitted pet areas and regulations.
View a backcountry map showing the dunefield with day use areas indicated.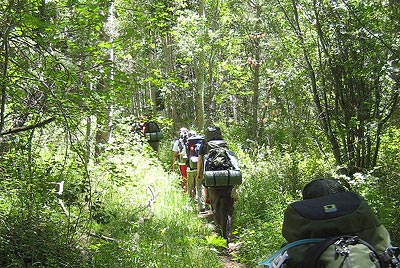 NPS/Dirk Oden
Backpacking in the Foothills and Mountains
Designated backcountry sites in the national park are located along the Sand Ramp Trail, in the transition area between the dunefield and the mountains. Slightly more sheltered from wind and lightning than the open dunes, these sites tend to have excellent views and some shade, but some are more than 1 mile from a source of water. Limit 1 (one) party per site; first-come, first-served. Dogs are not permitted in the backcountry of the national park, including the Sand Ramp Trail. See detailed map and regulations for pets.

Map of Backcountry Sites (.pdf file, 144 kb, revised 2014)
Descriptions of each backpacking site are below. Click on the title of the site for a photo.
BUCK CREEK: 0.5 miles north of Loop 2 in the campground. This site is located for families with children who want a short hike into the backcountry.
ESCAPE DUNES: 1.4 miles north of Point of No Return in an open grove of ponderosa pines. The site is near small "escape dunes", that have left the main dunefield and buried and smothered trees, leaving ghostly skeletons behind (a "Ghost Forest"). The vast majority of the pines in this grove are tall, alive, and healthy.
INDIAN GROVE: 2.9 miles north of Point of No Return. Explore the area and look for several ponderosa pines with large scars where American Indians peeled their bark for food and other uses in times past. The Scarred Trees Grove is on the National Register of Historic Sites. This is the most popular backpacking site because it is close to the main dunefield and close to Medano Creek, but it is in a sheltered grove of trees. It is the only site with a solar-composting toilet.
LITTLE MEDANO: 3.9 miles from Point of No Return, or 0.7 miles from Sand Ramp TH (high-clearance 4WD parking only). This site is situated in montane woodlands below Mount Herard. Little Medano Creek provides an good water source in most years, but may be dry in drought years.
ASPEN: 5.7 miles from Point of No Return, or 2.3 miles from Sand Ramp TH (high-clearance 4WD parking only). Aspen Camp offers incredible views of the entire dunefield from a foothills aspen grove. At 9,240 feet elevation, it is the highest designated backcountry site in the park (backcountry camping is also allowed off-trail in the national preserve; see below).
COLD CREEK: 8.9 miles from Point of No Return, or 5.5 miles from from Sand Ramp TH (high-clearance 4WD parking only). A destination for the more adventurous backpacker, Cold Creek Camp lies in a rugged valley filled with ponderosa pines. Wildlife abounds in this area including elk, deer, bears, and mountain lions.
SAND CREEK: 10.5 miles from Point of No Return, or 7 miles from the Sand Ramp TH (high clearance 4WD parking only). The campsite lies in a beautiful grove of cottonwood trees on the edge of the main dunefield. This is the only backcountry site where campfires are permitted. Collect dead and down wood only, and build your fires in the grate. Be absolutely certain the fire is out before you leave the site.
Camping in Great Sand Dunes National Preserve, the mountainous portion of the park and preserve, is available in most areas off-trail, as long as you are following Leave No Trace Guidelines and national preserve regulations. The national preserve is part of the Sangre de Cristo Wilderness area, a federally designated wilderness. You will need a permit from the Visitor Center only if you are accessing the preserve through the national park's main access area. Please Leave No Trace of your visit. Trail access is limited and extra preparedness is required. Hunting is permitted in the national preserve by license and in season - use extra caution if you hike during hunting season.