Park Campground and Medano Pass Road Closed for Winter

The Pinon Flats Campground and Medano Pass Primitive Road are closed for the winter season. More »
Maps

Official Great Sand Dunes National Park and Preserve Map (.jpg file, 470 kb, 1440 x 1727 pixels or 20" x 24" at 72dpi)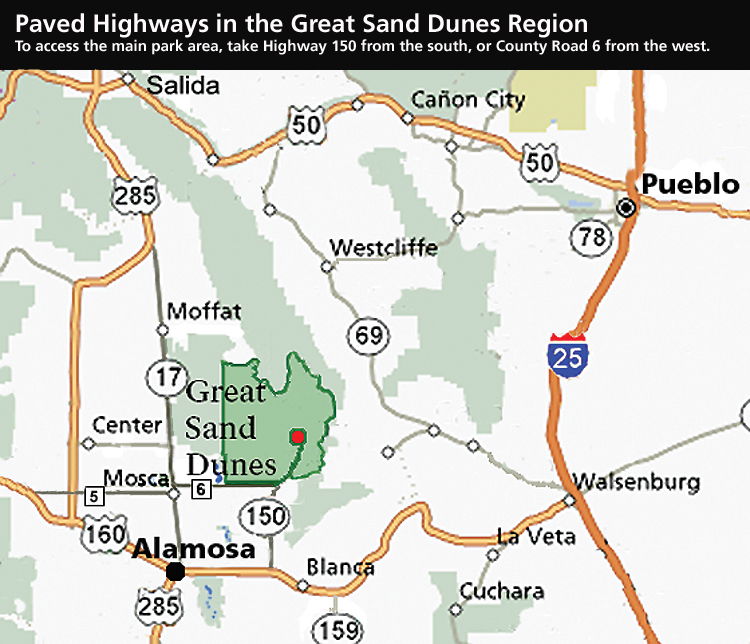 To access the main park area, including the Dunes Parking Lot, Visitor Center, and Pinyon Flats Campground, take Highway 150 from the south or County Road 6 from the west. Both are paved highways. View area map larger.
For official Great Sand Dunes maps in a variety of formats, including very high resolution for printing, please visit the NPS cartography page for Great Sand Dunes National Park and Preserve. The Great Sand Dunes bookstore, managed by Western National Parks Association and located in the park Visitor Center, carries topographic, raised relief, and trail maps of the area.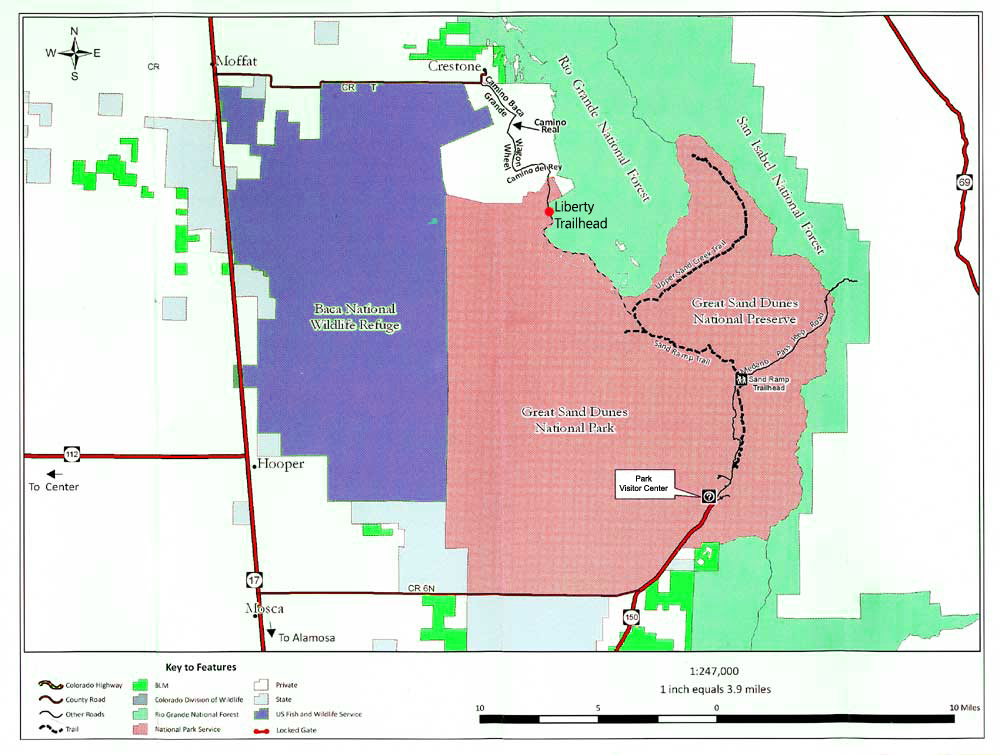 North Backcountry Access Via Liberty Trailhead
Map to Liberty Trailhead Showing North Backcountry Access to Great Sand Dunes National Park and Rio Grande National Forest. View this map larger. This is a dirt road access to the Liberty Trailhead; most vehicles except for RVs can access this trailhead. It is primarily used for longer overnight backpacking trips into Rio Grande National Forest or the remote north side of the Great Sand Dunes.
For day use, the Liberty Trailhead is primarily used to explore the open grasslands of Great Sand Dunes National Park, or the foothills above the grasslands.

Did You Know?

Some of the most dramatic views of the 14,000' Crestone Peaks are from the north side of Great Sand Dunes National Park. More...