Shrine of the Ages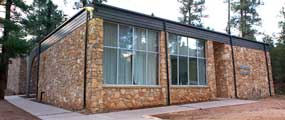 The Shrine of the Ages is a multi-purpose building used by the National Park Service, Grand Canyon Association, and others. It can also be rented for private functions, including wedding ceremonies, with application for a Special Use Permit. More on Special Use Permits.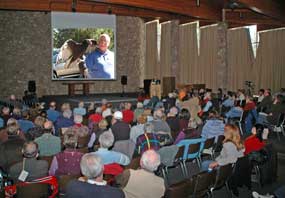 In the winter months, the nightly Evening Program is held inside the Shrine of the Ages, offering the opportunity to learn about a variety of Grand Canyon resources. Topics that park rangers may discuss include geology, human history, wildlife, the night sky, water resources, rock art, canyon hiking, and more. More about Ranger Programs...
Special events, such as concerts or demonstrations, may take the place of a ranger program offering visiting artists, musicians, or students from Grand Canyon School to present programs to the community and general public.
The free
Village Route Shuttle (blue line on map below)
has both a westbound and eastbound stop in front of the Shrine of the Ages. It can be accessed by private vehicle using Parking Lot A. It is within walking distance of Market Plaza, Mather Campground, Trailer Village, and Yavapai Lodge.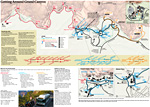 Spring 2013
(March 1- May 22)
South Rim Village Transit Map
(1 .29 MB PDF File) letter-size paper (4 pages)
as
one large page
22.5" x 17"
(1.3 MB PDF file)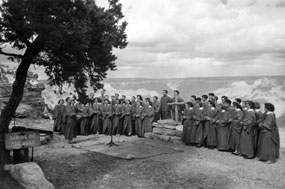 History of the Shrine of the Ages
Beginning with the idea for an interfaith chapel at Grand Canyon as early as 1917, it wasn't until 1952 that the Shrine of the Ages Chapel Corporation was formed, plans were drawn up, and fundraising started. The corporation was composed of representatives from Catholic, Jewish, and Protestant services, and was approved by the National Park Service because it offered the opportunity for all religious faiths to have a place of worship. The idea was to build a permanent building near a site on the canyon rim already used for services, including a very popular Easter Sunrise service.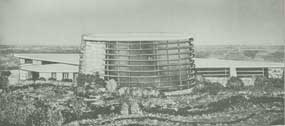 Harold E. Wagoner, a member of the board of directors of the Church Architectural Guild of America, was selected as architect. Working within park service guidelines to respect the natural environment and Native American culture, he designed a structure that reflected the architectural style of a kiva, a place of worship used by Native Americans in the Southwest. This design worked well since the park service also required that no towers or specific religious symbols be used. Because the initial building site was on the rim of the canyon just west of today's Hermits Rest Route shuttle stop, plans called for the main auditorium to have a sweeping canyon view from a multi-story, curved window placed behind the altar. A special hydraulic lift would raise and lower at least three different altar configurations for Jewish, Catholic, and Protestant services. An organ placed on a small balcony, with wind chests and pipes located at different sections of the main chapel, would provide stereophonic sound effects.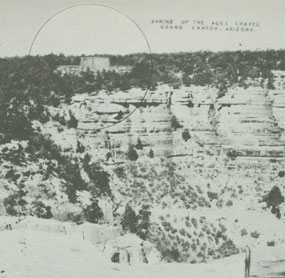 Even as fund-raising efforts reached around the world, questions about whether the rim was an appropriate location for the structure resulted in delays. Some even argued that the building only remotely resembled a kiva, instead looking more like a huge spacecraft perched on the canyon rim. Donations were never quite enough to realize Wagoner's plans, so federal funding became involved. The building was ultimately redesigned and relocated away from the edge of the canyon. An appropriate site was chosen next to the existing Grand Canyon Pioneer Cemetery, and the Shrine of the Ages was completed by 1970.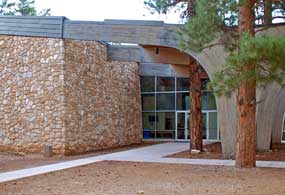 The National Park Service took over ownership of the building in 1975, along with all maintenance, operational and administrative duties. Today various organizations use the building, as can anyone who qualifies for a Special Use Permit.
The Shrine of the Ages sees many activities, including the annual Grand Canyon Music Festival, Celebrate Wildlife Day, and Hiker's Symposium. The National Park Service uses the building for office space, training, special events, and ranger programs, including the daily Evening Program from October through April. And of course, the building continues to be used for some religious services.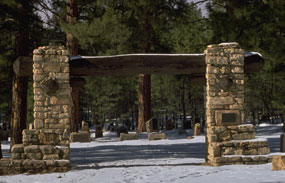 NPS
Grand Canyon Pioneer Cemetery
Looking for famous historical figures involved in the development and protection of Grand Canyon? The Grand Canyon Pioneer Cemetery is a great place to explore! John Hance, Ralph Cameron, Pete Berry, Ellsworth Kolb, Gunnar Widforss, and Eddie McKee are just a few folks you might run into at the cemetery.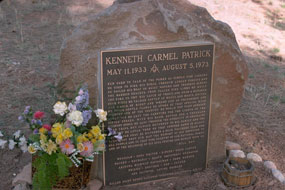 NPS
People interred at the cemetery include Grand Canyon pioneers, war veterans, tribal members, and employees of the concessioners, US Forest Service, and National Park Service. The cemetery, grave markers, and gateway arch are included on the List of Classified Historic Structures in Grand Canyon National Park.
The Grand Canyon Pioneer Cemetery is still an active cemetery. To qualify for burial an individual must have lived at Grand Canyon for no less than three years or must have made a significant and substantial contribution to the development of, public knowledge about, understanding of or appreciation for Grand Canyon National Park.
For more stories about the Grand Canyon Pioneer Cemetery visit the Arizona State University webpages Nature, Culture, and History at the Grand Canyon: Cemetery.
Insider's Look Webisode 013: Oct. 23, 2009
Park Ranger Patrick Gamman joins Park Ranger Nicole DeLuca for a who's who of Grand Canyon history at the Grand Canyon Cemetery.
Visit this serene and beautiful location and final resting place for many of the area's earliest pioneers. If you're here on Saturday, October 31, 2009, join Ranger DeLuca for a Halloween Full Moon Cemetary Walk. More...



---
Did You Know?
Grand Canyon's Yavapai Observation Station (1928) located one mile (1.6 km) east of
Market Plaza, features exceptional canyon views. Geology exhibits allow park visitors to see and understand the complicated geologic story in ways that all can understand. Exhibits and bookstore open daily. More...