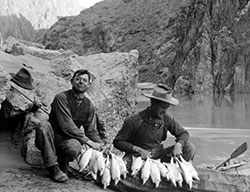 At least five of Grand Canyon's eight species of native fish were historically found in Bright Angel Creek. The creek was likely an important spawning location for several species. Today, native flannelmouth and bluehead suckers, as well as speckled dace still spawn in Bright Angel Creek each spring, but native fish are relatively rare. Humpback chub, which were first scientifically described from specimens collected in or near Bright Angel Creek, are no longer found there.
Robust populations of native fish are important indicators of an aquatic ecosystem's overall health. National Park Service Management Policies require that species and natural ecosystems are preserved, and that recovery actions are taken when park resources have been damaged or compromised. A variety of laws, including the Endangered Species Act, require the protection of rare or endemic species. The Bright Angel Creek Trout Reduction Project is part of a larger effort to restore habitats and native fish throughout the park.
Trout species are not native to the Colorado River and its tributaries in Grand Canyon. Brown and rainbow trout were stocked in Grand Canyon in the first half of the last century before the existence of current environmental regulations and development of ecological knowledge of aquatic systems. Today, brown trout, a species native to Europe and Asia, is the most common fish species found in Bright Angel Creek. As recently as the 1970s, brown trout were rare in Bright Angel Creek. Along with the increase in the number of brown trout in Bright Angel Creek since the 1990s, there has been a corresponding decline in native fish.
Bright Angel Creek is now an important spawning site for brown trout, and a large number are found in the Colorado River near the confluence with Bright Angel Creek. Much of the diet of brown trout in Grand Canyon consists of fish, and they preferentially consume native fish. Hence, the presence of brown trout likely has significant impact on the native fish population in the Colorado River and Bright Angel Creek.
Trout that spawn in Bright Angel Creek have been captured in other parts of the Colorado River. For example, large rainbow and brown trout caught last year in Bright Angel Creek were originally tagged with passive-integrated transponder tags (PIT tags), or microchips, in the Little Colorado River confluence, more than 26 miles away. The Little Colorado River confluence contains the largest remaining population of humpback chub left in the world, and is an important area for other native fish species.